Beats by Dre Logo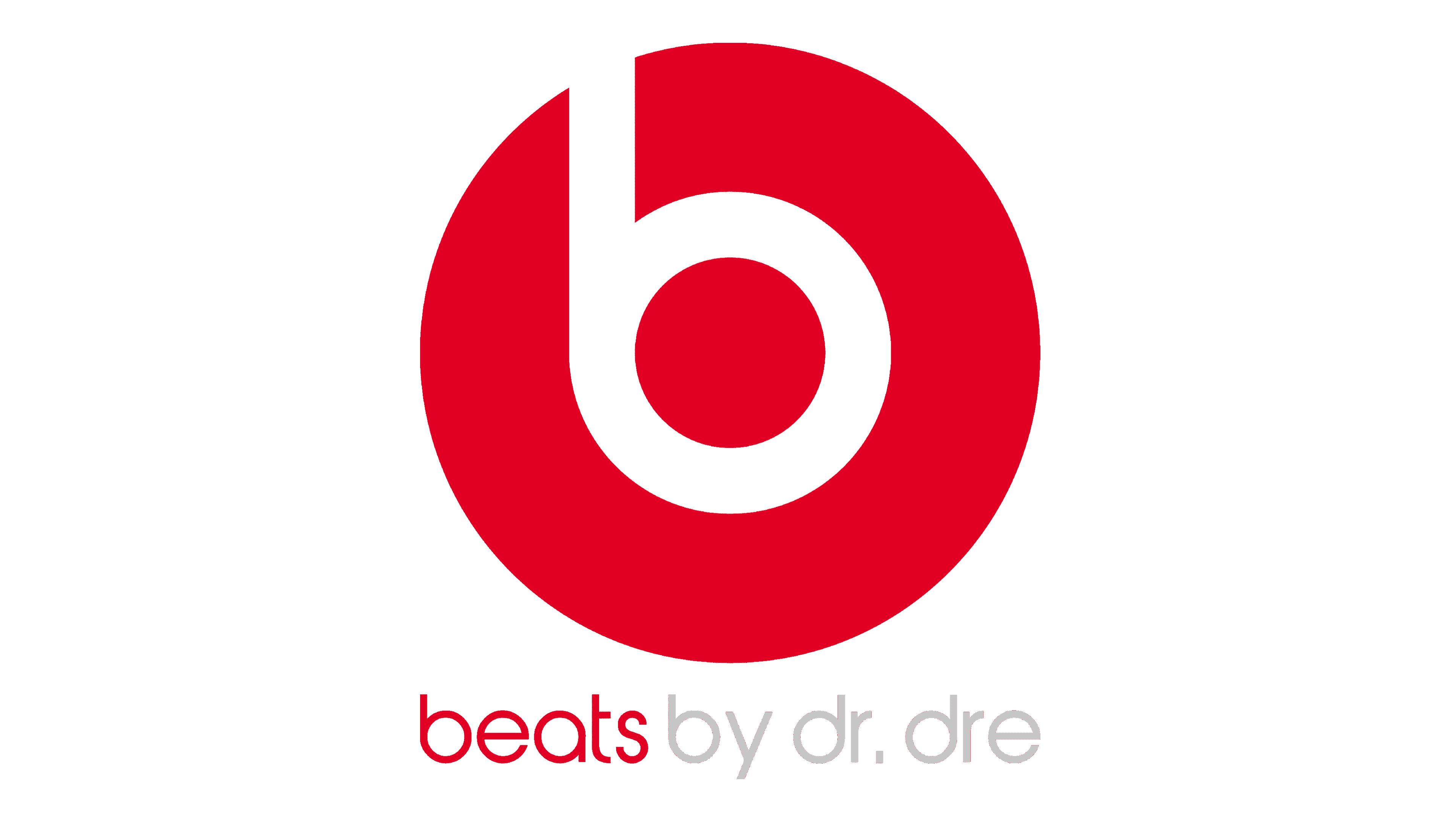 By downloading the Beats by Dre Logo PNG you agree to the Privacy Policy.
The founders of Beats are the head of the board of directors of the Interscope Records label, Jimmy Aiwin, and rapper Andre Young, better known as Dr. Dre. The names of many athletes and musicians, including Lebron James, Cesc Fàbregas, Lady Gaga, and Nicki Minaj, are firmly connected with Beats and largely popularized it. It also cooperated with HP, and Chrysler, and was later purchased by Apple. It is quite hard to attract the attention of such a large company. So the fact that Beats by Dre was absorbed by Apple tells that this is a respectable brand.
Meaning and History
The first Beats by Dr. Dre product, the headphones, was released in 2006 when the brand made its debut. HTC acquired 50% of the BEATS stock in 2011 For $300 million. Just a year later, it kept the rights to utilize Beats technology in its devices while returning half of the shares. In 2012, Beats acquired MOG, which was one of the many startups fighting for success among streaming music services. It became the basis of Beats Music, which was launched in January 2014. Next year, Beats bought back the remaining 25% owned by HTC. Samsung tried to purchase the Beats brand in 2014, but Apple was the one to actually get it. Apple invested $3 billion in the acquisition of the business, $1 billion of which went directly to Dr. Dre.
What is Beats by Dre?
The Beats by Dre, in addition to the production of headphones, speakers, and other consumer audio items, provides users with the Beats Music online service, which allows one to listen to music in streaming mode and create personalized musical collections. Thanks to the initial promotion and later acquisition of the brand by Apple, the brand is quite popular.
2006 – Today
The emblem featured on Beats by Dre products and services looks simple, but the lack of many details gives it a professional, stylish, and timeless look. It is comprised of a large red circle. The round emblem features a white lowercase letter "B", the initial of the brand's name. The letter starts from the outer edge of the circle and smooth curves, forming a perfect circle with a tail at the top or a "b". The emblem is accompanied by the name written underneath. It features the same font and lowercase letters. The word "beats" is done in red, while "by dr. drew" is written in light gray.
Font and Color
The logo features a font that resembles Bayer's Universal typeface. This is a geometric sans-serif font based on bar and circle that was designed by Herbert Bayer at the beginning of the 20th century. When it comes to the color palette, the brand chose a bold red color, which represents energy, passion, and strength. The other two colors are white and light gray, which are quite neutral and give the logo a modern appearance while balancing out the bright red.