Georgia Bulldogs Logo
By downloading the Georgia Bulldogs Logo PNG you agree to the Privacy Policy.
Being a university American football team for over 100 years, the Bulldogs have a lot of stories to tell. It had multiple players who won the Heisman Trophy. The Deep South oldest rivalry is Georgia vs Auburn. They also have been playing against Florida Gators, which started with a 137-0 score back in 1915. Bulldogs also have a long-standing rivalry with Georgia Tech, its state rival.
Meaning and History
The University of Georgia has a football team that has been playing since 1892. The team was brought to life by a chemistry professor who was a former player to play the first game in the deep south, which the team won. There was a 10-year gap between the first and second games. Over 100 years later, the team has over 90 thousand spectators attending its games. In their early years, they have changed head coaches frequently, but Vince Dooley stayed with them for over 20 years and led the players to two Southeastern Conference championships.
What is Georgia Bulldogs?
This is a well-established football club. Led by a legendary coach, Vince Dooley, the Bulldogs have many victories and achievements that their fans admire them for.
1921 – 1933
A black and white very realistic drawing of a bulldog standing on all four feet set wide apart with a little grass underneath. The bulldog has an angry frown with a little bit of teeth visible. It has a black hat that is turned slightly to the side and has a white "G". Another accessory is a black collar with white spikes. Overall, the dog has the look of someone you would not want to mess with.
1945 – 1958
The new bulldog is drawn at a slightly different although still facing forward. The dog has less of an angry face and looks more mischievous. It has visible teeth and is holding a red flag with "UGA" written in black capital letters.  There is no hat or grass under its feet. Moreover, the drawing is not as detailed and looks more like an outline. The collar acquired a new little detail which was an oval red tag with the team's foundation date.
1958 – 1964
The next logo featured only a dog's head. It seemed very hostile and ready to attack with its visible teeth red gum along with red in the eyes and collar. The bulldog got its hat back on. It was black and red with stripes going from the center towards the outer edge. The large letter "G" was added to the hat in black on a red stripe. The collar was still black with spikes, but there was a red stripe at the top for a more striking effect.
1964 – 2015
There was no more aggressive dog. Instead, the emblem featured a no less striking letter "G" that stood for the team's name. It had an almost perfect horizontal oval shape with a slit and a line that turned it into the "G". The letter was set on a white background and enclosed in a red thin circle. It definitely made a statement no matter where it was used.
2015 – Today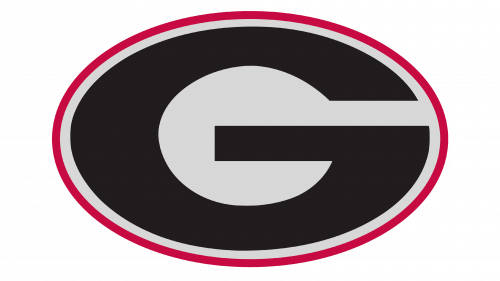 The logo that has been used since the early 1960s has undergone a little update. The red was muted a bit, while the white background turned into light grey. Otherwise, the emblem was kept unchanged, which further strengthened its long-lasting recognition.