PhonePe Logo
PhonePe is an Indian digital transactions start-up founded in 2015 and owned by Flipkart. Since the start, their core mission has been to become a universal mobile eco structure, providing people with easy access to smooth and secure electronic transactions. The company's market is India, with 25 million active merchant outlets in almost 16,000 populated areas. Its software serves 350 million users who have made transactions of $972 million as of February 2021. PhonePe is the largest shareholder in the Indian market, occupying 47% of its digital payments industry.
Meaning and history
The company was established by Sameer Nigam in 2015 in Bengaluru, a city in the south of India. Its name derives from the phrase 'phone payments'.
One year later, Flipkart purchased PhonePe and started the company's transformation into a nationwide digital transaction system beginning with the mobile app developed in the same year and released in Google Play and App Store. In 2017, PhonePe had crossed a mark of 10 million app downloads and 1 million operations a day.
The number increased in the following years, so in 2020 the user number was 250 million and 2 billion transactions. They have also launched insurance offerings and micro apps in their eco structure and formed mutual funds, following their mission to become a universal, smooth and safe payment system.
Now, it has 350 million users and 25 million merchants partnering with PhonePe and using various services on its platform.
What is PhonePe?
PhonePe is an Indian technological company, incorporated in 2015 by a group of entrepreneurs led by Sameer Nigam. The company is best known for its online payments system, which united 350 users making 2 billion transactions a day. Owned by Flipkart, PhonePe is the largest payment system in the country, occupying almost half of its entire digital payments market.
2015 – today
The official logotype consists of a circular emblem and a name caption. The emblem shows an Indian symbol reminding the 'p' letter but with its upper part transformed into a straight bar. It has a diagonal stroke coming from it. To the right of it, there is the 'PhonePe' text plate, written in a single word with the two 'p' characters made uppercase to separate the two portions of the name.
Color
The coloring consists of violet and white. The symbol is white, while its background and the name caption are violet.
Font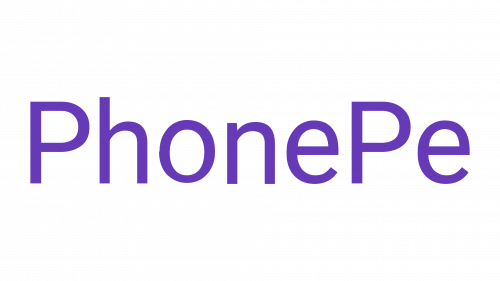 The inscription consists of bold letterforms without serifs. Both 'p' symbols are caps, while all others have been written in upper case. Each letter has received rounded and streamlined edges to look friendlier and catchier.