Albany Great Danes Logo
By downloading the Albany Great Danes Logo PNG you agree to the Privacy Policy.
Albany Great Danes are the name of an athletic program from the State University of New York at Albany, which is also known as SUNY Albany, a public educational institution, which was founded in 1844. The SUNY sports program is composed of 18 men's and women's teams, affiliated with the first division of the National Collegiate Athletic Association.
Meaning and history
Apart from being associated members of the first division of the NCAA, the Albany Great Danes teams are also a part of the America East Conference, an intercollegiate organization, which was established in 1979, and consists of 10 college members. There are two teams in the program, which play in different conferences: the men's football club is a member of the Colonial Athletic Association (established in 1979), and the women's golf club — is of the Metro Atlantic Athletic Conference (established in 1980).
What is Albany Great Danes?

Albany Great Danes are the collegiate athletic program of the State University of New York at Albany, which consists of 8 men's and 19 women's clubs, competing in various sports disciplines, including Basketball, Lacrosse, Football, indoor and outdoor Track, and Field and a few others.
In terms of visual identity, the Albany Great Danes athletic program chooses to be bright and eye-catching. Although the logo of the program's teams has been redesigned several times throughout the years, its intense and unusual color palette has always been in each badge, building the connection, and making the logos recognizable and memorable.
1993 – 2003
The Albany Great Danes logo, designed in 1993, featured Al quite a minimalistic composition, executed in a bright purple and yellow color palette. The enlarged capital letter "A" in a bold square serif typeface was drawn in yellow (on top) and purple (at the bottom), and outlined in purple, with the horizontal bar replaced by a white banner with the uppercase purple "Albany" in an elegant serif font, enclosed between two horizontal purple lines.
2001 – 2007
The redesign of 2001 kept the purple and yellow color palette of the Albany Great Danes logo but completely changed its design concept. The new badge featured a two-leveled italicized lettering with the "Great" in yellow with the purple outline, set above the white "Danes", and underlined by the light gold "University of Albany" written over a purple banner at the bottom of the logo. The inscription was set in a bold serif font, and placed on the right of the graphical emblem, depicting a yellow dog with a purple outline and some purple detail over its head and body.
2008 – Today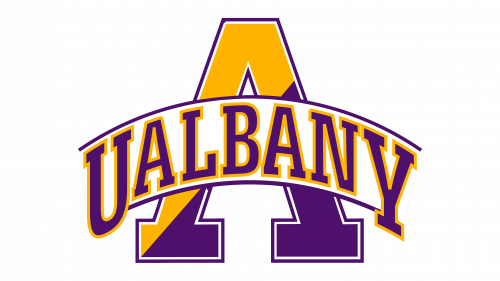 In 2008 the Albany Great Danes logo was redesigned again, coming back to the concept of 1993, but slightly rethinking it. The yellow and purple "A" was redrawn in a stricter typeface, with narrow contours and more square serifs. Its thick purple outline for thinner, and was accompanied by white now. As for the banner with the "Albany" inscription, it is now arched, and had some yellow gradients on the background, along with the yellow outline