DoorDash Logo
DoorDash is the largest food delivery company in America. In fact, they've been so influential at this market that most other major food deliveries have modeled their approach to that of DD. Unfortunately, though, the brand isn't really present anywhere outside United States.
Meaning and History

DoorDash was created back in 2013 as a convenient method of ordering any type directly to your door, all from an online app. That's incidentally how they got this name – DoorDash. It basically means that your requested food will be delivered directly to your door very quickly.
2013 – 2014
The first DD logo was rather simple. It didn't convey anything regarding the brand itself, it was just a bicolor company name written in thin lowercase. The first 4 letters were in black, and the rest – in red. That last color soon became the brand's primary color in all instances.
2014 – 2018
In 2014, the emblem changed significantly. Firstly, the writing changed to a completely red uppercase company name with thicker lines and more room between the characters themselves. Additionally, they also introduced the symbol of two red wings, one blocking the other, but both positioned horizontally.
In many cases, they also used their motto written directly below the main logo. It said 'delightful delivery' in the style not unlike that from the 2013 writing, but completely red and with bigger intervals.
2018 – today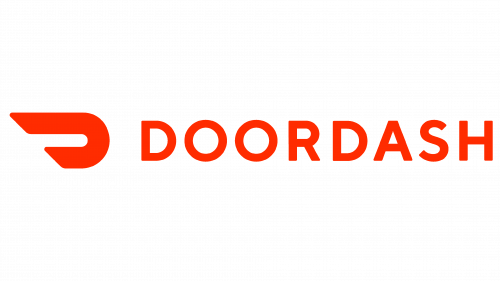 Simplification was 2018's theme. DoorDash took their now-iconic wings symbol and made it into a simplistic wing emblem that resembled a letter 'U' placed horizontally and cut diagonally.
This symbol was now put to the left of the writing part, although they often used them separately. Lastly, they got rid of the motto part and changed the coloring to a more saturated red hue.
Emblem and Symbol
Given that DoorDash operates mostly via mobile apps, the introduction of a wings symbol in 2014 was very timely. They used it as an icon for their mobile app – a red pair of wings with a white background. In 2018, the new 'U'-like wing icon supplanted the previous design, but the outlay remained pretty much the same.