Toys 'R' Us Logo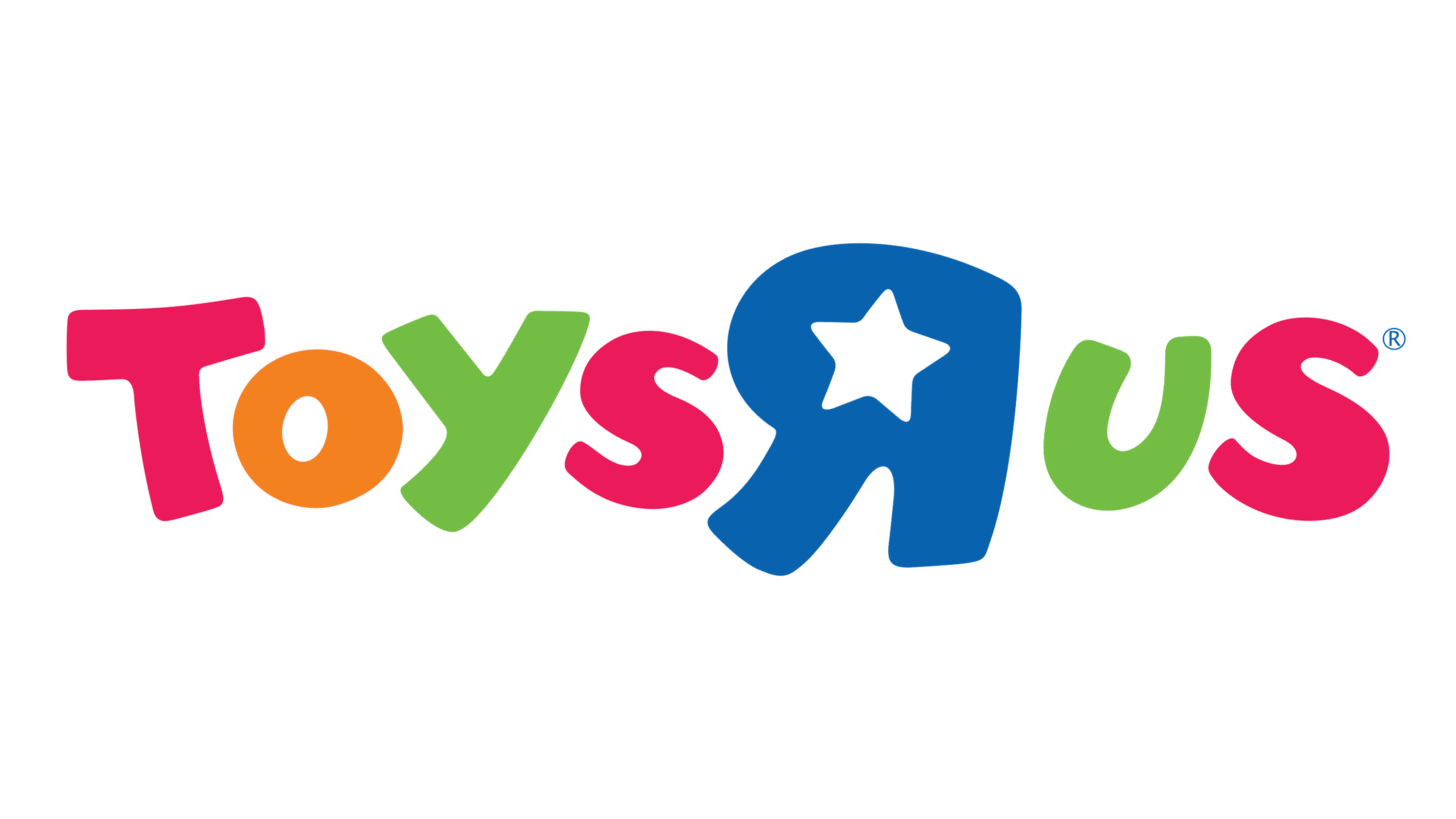 By downloading the Toys 'R' Us Logo PNG you agree to the Privacy Policy.
Toys 'R' Us is a toy-making company from America. Besides toys, the company manufactures many other products intended for use by toddlers. The first shop of the company was established in 1948. However, it wasn't until 1957 that the business took on its current name.
Meaning and History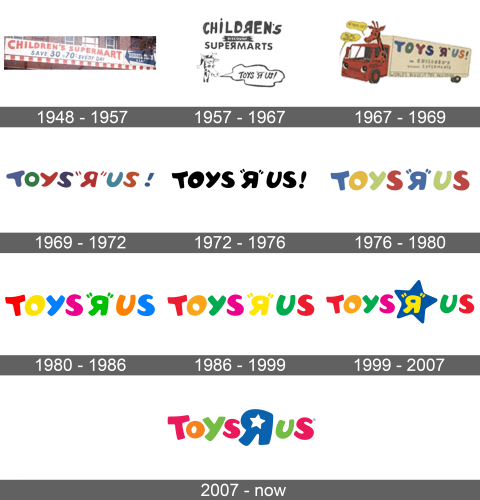 1948 – 1957
Initially, this chain of stores was called just 'Children's Supermart'. The logo they used was a simple wordmark featuring their name written in red. It was all capital letters, although their size diminished the closer to the middle you got because the bottom was curved upwards, while the top stayed on the same level.
1957 – 1967
The name 'Toys 'R' Us' was adopted in 1957, although they kept calling themselves the 'Children's Supermarts' for some time after that. This logo depicted both names – the latter written in comical letters (some mirrored or disproportionate). The former was put below it into a speech bubble that came off from a cartoonish giraffe that was nearby.
1967 – 1969
In 1967, they introduced the first version of their iconic wordmark logo. They basically wrote their name (as 'TOYS 'R' US!'), where the 'R' letter is mirrored into 'Я'. The style is cartoonish, and these letters generally look like balloons. Each letter had a unique color, ranging from blue to red to orange.
They used it standalone, but sometimes they'd place the wordmark onto an image of a truck, driven by a giraffe from before.
1969 – 1972
It's a similar wordmark, except the letters took on different colors and were tilted into different sides. They'd also sometimes put the 'children's bargain time' note beneath the name's right half.
1972 – 1976
That's the same wordmark without anything else, except the letters have been streamlined and made softer. The color is unspecified for this one, which means it could be anything, not just what you see on the screen.
1976 – 1980
In 1976, they got rid of the '!' in the end. Also, the color scheme was now specified: only three colors were used for these letters, including pale shades of green, blue & yellow.
1980 – 1986
The color choice was then updated to this. Each letter now had its own color, and there were all much brighter and more saturated.
1986 – 1999
1999 – 2007
This time, the colors (or anything, for this matter) didn't really change. They did add a softly drawn blue star behind the 'R' letter, however.
2007 – today
The font was updated for once – they were generally similar shapes, but some characters grew in size. The 'R' part was updated more: the letter got rid of the commas on each side, was increased in size and given a star-shaped hole. The star from before was removed. Moreover, the coloring for all letters changed to orange, pink or green.