Bentley Logo
Bentley is a brand of luxury cars produced for a sophisticated audience. Their logotype features the celestial wings. With this distinctive logotype, Bentley Company started its operations in Great Britain, 1919. They always had a reputation as a top-class automobile company, which designs, makes, and sells extra stylish, safe, and fast vehicles for rich people across the whole world. Now, this is one of the most successful companies in the sphere of premium automobile construction.
Meaning and history
As happens with many other brands, Bentley Company was established as a small family business. Its founder was Walter Owen Bentley – a British engineer, who himself was a motorcycle and car racer. He established the business in 1919 and then developed it into a successful brand of luxury cars. However, Bentley's popularity appeared after a long period of struggle and bankruptcies. Their cars failed many times because of their high price. However, due to the promotion of the 'price as a proof of technical supremacy' principle, the brand has been facing wavering popularity since the 80s.
What is Bentley?
Bentley is a company founded in 1919 and located in the United Kingdom. They specialize in designing, constructing, and selling of first-class quality automobiles across the world as well as offering services of their modification and repairing. The company makes its vehicles in very limited numbers, so Bentley cars are very rare and affordable only for an extra rich audience. Since 1997, Bentley is a division of Volkswagen Group.
1919 – today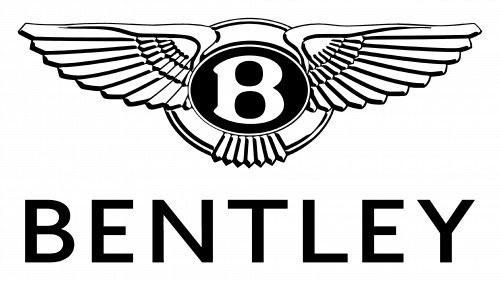 The Bentley logo depicts a black circle with a white 'B' character on it. To the left and right sides of the circle, we can see the spread wings, also colored white but having black contours. From the bottom part of the circle, we can see 7 lines slightly reminding feathers. Behind the circle, we can see a white ring with a very thin framing. Sometimes, they put an inscription with the name of the brand below the emblem. It has a sans-serif typeface with very small gaps between uppercase letters.
Font and color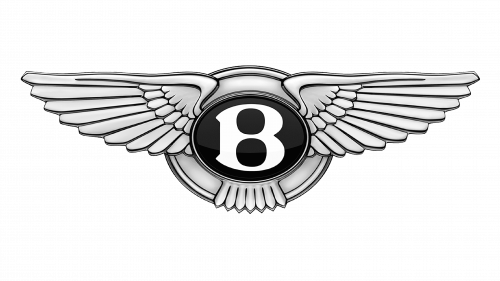 The font of the Bentley nameplate has a somewhat bold style with straight and angular sans-serif letters, which have fewer gaps in between. The 'B' letter has a fat style with large circles, as the inner part. They're slightly reminding the '8' number.
Color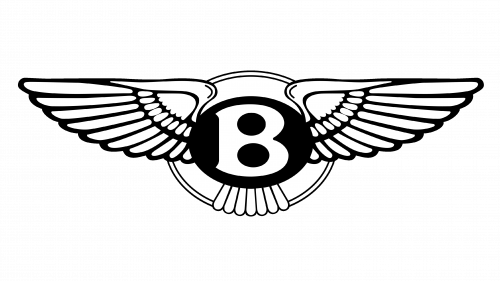 The coloring of the nameplate is usually white, though it can change to fit the background or the situation. As for the coloring of the whole emblem, so the brand designers decided to use the neutral classic duo – black and white. However, the shades can change: you can white and red, silver and black, and white and yellow variants.