Dodge Hellcat Logo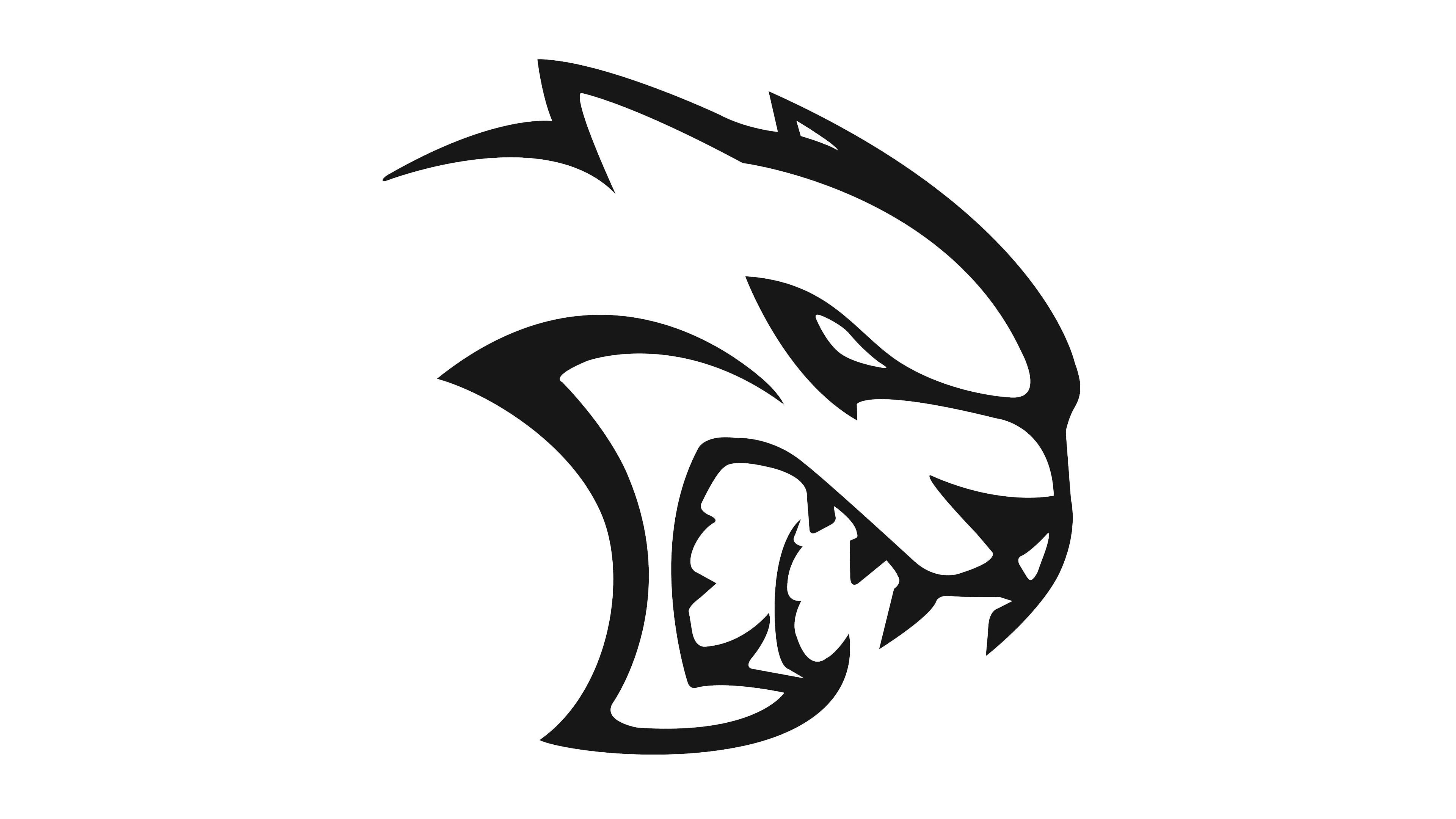 By downloading the Dodge Hellcat Logo PNG you agree to the Privacy Policy.
Dodge Hellcat is a more powerful version of the well-known Challenger. The new Challenger (and Charger) Hellcat was America's most powerful muscle car that showed amazing speed records. Yes, it was more powerful than the 8.4-liter Dodge Viper with its V10. It was more powerful than a Ferrari 458 by a whole VW Golf. The Hellcat hits 60 mph in less than three seconds and does the quarter mile in 11.2 on standard tires. The car has several driving modes:  Custom, Track, Sport, and Default. The monitor shows all the information about the car.
Meaning and History
The Dodge Challenger SRT Hellcat is a car that has forever left its mark in the history of muscle cars. Dodge is not the first to use "Hellcat" in the name of their cars. For example, during the Second World War, the United States was armed with the M18 Hellcat tank destroyer. Hellcat has been considered the most powerful modification of the muscle car up to 2018, but some special mutagen developed by the company's engineers turned the "Hellcat" into a "Demon". The Dodge Challenger Hellcat is one of the best representatives of the sixties era, when in the USA cars with huge engine displacement, impressive power and rear axle drive left traffic lights smoky from burnt rubber.
What is Dodge Hellcat?

It is the legendary American muscle car, powerful, brutal, and very charismatic. The pleasure that the drivers get every time they accelerate from a standstill cannot be compared with any other car. No wonder SRT in the car's name stands for Street Racing Technology because each of their cars has details that are dear to the heart of a street racer. For example, the headlight on the Hellcat is not a headlight at all, but a hole for air to enter the air filter.
2014 – Today
The logo that will forever be associated with the Hellcat car depicts a cat, but not your regular pet cat. It is a cat that you would not want to meet in real life as it looks ready to attack with a wide open mouth and visible teeth. The squinted eyes and ears pointing to the back made the animal look even more feisty. The animal or rather its head was a contour drawing in simple black lines of various thickness. All the ends and corners are sharp, which adds some motion to the drawing. In some versions, the eye was colored red and gave the emblem even more character. Overall, the logo perfectly matches the powerful and energetic car it is used to represent.