Blink 182 Logo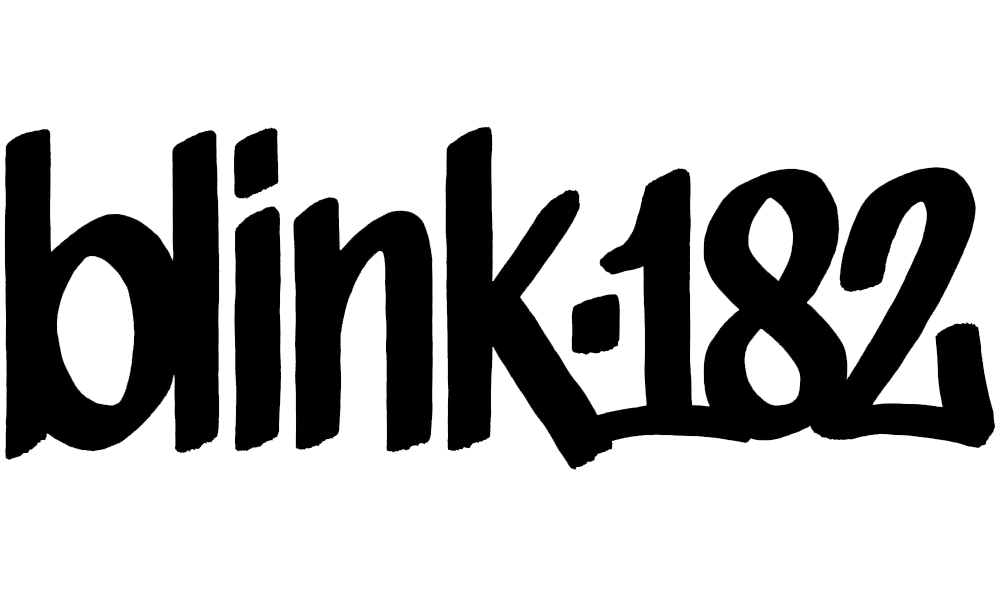 By downloading the Blink 182 Logo PNG you agree to the Privacy Policy.
Blink-182, an iconic American rock band formed in 1992, hails from Poway, California. Comprising Mark Hoppus, Tom DeLonge, and Travis Barker, the trio gained massive acclaim with their high-energy performances and catchy tunes. Best known for hits like "All the Small Things" and "I Miss You," their sound seamlessly blends punk, rock, and pop. Over the years, their lineup witnessed changes, with DeLonge's departure being notable. Yet, Blink-182 remains influential, shaping the pop-punk genre and inspiring countless artists. Their raw lyrics and spirited anthems continue to resonate with fans, both old and new.
Meaning and history
Blink-182 emerged from the sun-soaked streets of Poway, California, in 1992. Originally, it was a trio featuring Mark Hoppus on bass, Tom DeLonge on guitar, and Scott Raynor on drums. The band's initial offerings had a raw, authentic punk vibe, evident in their debut album "Cheshire Cat" (1995).
However, it was their subsequent albums that marked the band's evolution and ascent to mainstream stardom. In 1997, they released "Dude Ranch," featuring the hit "Dammit." But the lineup underwent its first transformation when Travis Barker replaced Scott Raynor in 1998, bringing a fresh, eclectic drumming style.
The Barker-Hoppus-DeLonge combination propelled Blink-182 to new heights. "Enema of the State" (1999) became a pivotal album, introducing fans to anthems like "All the Small Things" and "Adam's Song." Their mix of catchy hooks, relatable lyrics, and irreverent humor made them pop-punk legends.
The early 2000s saw the band diversifying their sound. "Take Off Your Pants and Jacket" (2001) leaned into deeper themes while maintaining the band's signature energy. Their self-titled album in 2003 was a more experimental endeavor, touching on post-punk and emo influences.
However, internal tensions, differing priorities, and a need for a hiatus led to a temporary split in 2005. The members pursued various projects: Hoppus and Barker formed "+44", while DeLonge founded "Angels & Airwaves."
Reconciliation came in 2009, prompted by the tragic plane crash involving Barker. Their subsequent album, "Neighborhoods" (2011), mirrored their individual growth and maturity, albeit with mixed reception.
However, in 2015, DeLonge left the band again, replaced by Matt Skiba from Alkaline Trio. Blink-182 continued its musical journey with albums like "California" (2016), showcasing their timeless ability to evolve while staying rooted in their identity.
From their skate-punk origins to becoming pop-punk royalty, Blink-182's journey reflects resilience, innovation, and an undying connection with fans. Their legacy remains a testament to their influence on multiple generations of rock enthusiasts.
1998 – 2003
The logo is composed of dual semi-circular elements resembling an upright microphone. The slender section features the word "blink" in a slanted script, similar to the Strokes Rough typeface. The broader section, predominantly white with a distinct blue outline, showcases the enigmatic "182" in a bold red hue, flanked by additional strokes. The origin of "182" remains shrouded in intrigue, with its significance sparking various theories.
One belief suggests the number was arbitrarily selected, devoid of any inherent meaning. Another theory posits that the digits "18" and "2" represent the letters "r" and "b" in the alphabet, respectively, hinting at Rancho Bernardo – the band's inception place. Yet another speculation links "182" to military jargon, where it's allegedly a code for "homicide". The true meaning behind this element remains a topic of discussion and debate amongst fans and enthusiasts alike.
2003 – 2011
During this era, the logo took on a simpler yet more unpolished design. Letters were depicted using multiple lines, sometimes two or even three. It's as if the uppercase and lowercase letters were intertwined, creating a layered effect, suggesting an indecision from the designer's part on letter casing. The word "bli" is grouped together, while the remaining letters, "n" and "k", are isolated. To the right, the enigmatic "182" consistently appears. The backdrop features an uneven rectangular shape, characterized by bulges, indentations, and curved edges, adding a touch of unpredictability to the overall design. The irregularities hint at a more raw and organic intention behind the logo's creation.
2011 – 2022
The typography in the Blink 182 insignia resembles street art or graffiti, typically seen on urban walls or barriers. The lettering is crafted with bold, brush-like strokes, suggesting a hand-painted touch. The frayed and inconsistent edges of each letter add a raw aesthetic to the design. A mix of capital and small letters brings a distinct flair to the band's name, with the cross atop the letter "i" providing a unique twist. The numeral "128" mirrors this artistic style, bearing the same spontaneous and rugged essence as the rest of the logo, reflecting the band's edgy and rebellious spirit.
2016 – 2019
The logo showcases sharp and unembellished sans-serif typeface. Set against a pristine white backdrop, the characters stand out in bold uppercase, rendered in a deep black hue. Adjacent to the word "BLINK," the numeral "182" appears, distinctly separated by a dash. The design, with its straightforward and modern approach, conveys a sense of clarity and precision, reflecting the band's straightforward identity while simultaneously capturing their iconic status in the music world.
2022 – Today
The contemporary logo uniquely blends both lowercase and uppercase characters, each distinct in its presentation. While the capital "L" and "K" share stylistic similarities, every other letter boasts its unique design. The numerals, too, stand out in their individuality, each bearing a different design. Words are elegantly placed against a pure white canvas, while the numbers shine bright on a sunlit yellow background. This intricate design sits within a rectangle, cleverly partitioned into two unequal segments, showcasing the seamless blend of creativity and individual expression.
2023 – Today
In 2023, Blink-182 makes a stellar comeback with "One More Time…" – a fervently awaited album that reunites the legendary trio – Mark Hoppus on bass and vocals, Tom DeLonge strumming the guitar and adding vocals, and Travis Barker showcasing his prowess on drums.
This masterpiece was birthed during their mammoth reunion tour, a spectacle that witnessed sold-out crowds at venues ranging from massive arenas to open-air stadiums globally. Helmed by Travis Barker as the producer, "One More Time…" boasts a collection of 17 fresh tracks, portraying the band's unparalleled synergy. These melodies delve deep into tales of adversities, victories, and above all, the unbreakable bond they share.