Twice is a musical girl group originating from Seoul, South Korea. They sing in the genres of k-pop in Korean and Japanese. Most of their works are targeted toward male and female teenagers and broach the subjects of love, death, and loneliness. The group has attracted worldwide attention after its first release, named The Story Begins. Twice consists of nine members with impressive vocal and dancing skills: Jihyo, Nayeon, Tzuyu, Momo, Jeongyeon, Sana, Mina, Dahyun, and Chaeyoung, who united in the group under JYP Entertainment management in 2015.
Meaning and history
JYP Entertainment drafted a plan for an entirely female band establishment in late 2013. During the project, JYP hired two trainees Lena and Cecilia. They became the first two applicants to the team, preliminarily named 6MIX. However, it was nullified when both girls left it in early 2014. The next milestone occurred in February 2015 when JYP declared that the girl band's composition would be set up via Sixteen, a contest that drew sixteen teenage trainees in competition against one another.
The show was live from May 5 to June 7, 2015, and selected seven participants for the group: Jihyo (the future leader), Nayeon, Jeongyeon, Sana, Mina, Dahyun, and Chaeyoung. JYP later invited Tzuyu, the most popular participant by the end of the contest, and Momo, chosen by the JYP's boss personally for her performance skills. The band's name, Twice, was invented shortly after its collection. It meant that the band touched the audience's hearts and minds twice: first through audio performance, and second by visual exposition.
Twice started with an electronic piece named The Story Begins and a single song called Like Ooh-Ahh in October 2015. They both got a warm welcome, which meant a green light for the girl band's further development. Since then, Twice has sold 1,2 million units of their albums and released seven studio albums, eleven EPs, and numerous singles, for Korean and Japanese audiences.
What is Twice?
Twice is a Korean girl band, created in Seoul. It consists of nine impressive dancers and vocalists: Jihyo (the band's chief), Nayeon, Tzuyu, Momo, Jeongyeon, Sana, Mina, Dahyun, and Chaeyoung. The main genre in which Twice performs is K-pop and most of their songs touch on love. Since its foundation in 2015, Twice has released seven studio albums, eleven EPs, and many singles, marketed toward Korean and Japanese audiences.
2015 – today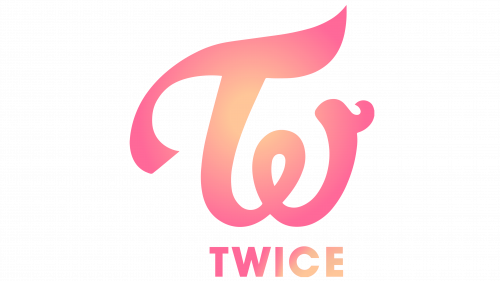 Twice has always depicted the same logotype on the posters of their albums. It shows an emblem featuring the character 'w'. Its left part is elongated, and there is a bold wavy line covering the whole symbol, so it looks like a joint 'tw' symbol. Below the emblem, the brand designers wrote the name caption.
Color
The logotype appears in different color palettes, changing from one album poster to another. One can find it colored white, red, pink, blue, and yellow, depending on the background. However, their social media logotypes show a pink emblem with a beige background, while the website depicts a white inscription.
Font
Their nameplate's typeface is a simple one. It shows bold sans-serif capitals. Wide intervals separate every letter.