PayPal is one of the most frequently used services for online money transfers. It gives you an alternative to the paper interactions with money such as cash or checks. Launched in 1999, PayPal quickly became the worldwide Internet payment system, supported by many countries and banks.
Meaning and History
The company is known for its absolutely unchanging style. This decision can be explained by the company's nature as a massive money exchanger for many people. Naturally, the swindlers could easily hide behind the name and the emblem of the company if it often changed its brand style.
However, the service changed its logo a few times.
1999 – 2007
The initial PayPal logo was created the year after the company was founded and stayed with it until 2007. The emblem depicted the white lettering with a blue bold contour. For now, it was a sharp angular typeface with clear outline with every symbol sewed to another one.
2007 – 2012
In 2007 the wallet's signature endured a major redesign. From now, the lettering was in dark for 'Pay' and bright blue for 'Pal', with no outline. The letters got more space between one another while the entire font became more minimalistic and eye-catching for its simplicity and clearness.
2012 – 2014
In 2012 there was a small redesign for the logo: the emblem generally became rounder and more tightened.
2014 – Today
This logo was created in 2014 and became the most recognizable so far. The new logo developed in San Francisco had a new image left side to the name of the company made in the same colours as the inscription, which hadn't any changes except a little lightening.
The new image represented the double 'P' and was meant to be the company's stylish watermark which symbolizes the connection with the clients, its openness to conversation.
The accurate and rounded typeface of the 2014 logo looks very similar to the previous ones. But there are some visual features in this version. For example, the lettering became wider and clearer: the characters 'a' and 'y' changed their designs and got more space.
Emblem and Symbol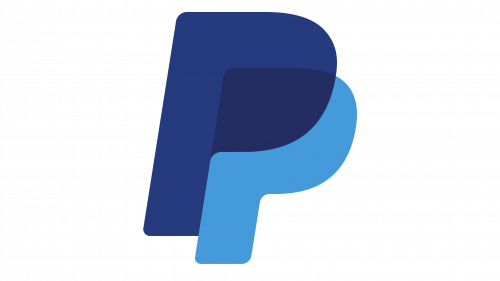 The 'double P' symbol is used by the company extensively. Some variations have the letters come together much closer in order to save space. For instance, this emblem was used as an icon for a mobile app for the longest time.