By downloading the Zumba Fitness Logo PNG you agree to the Privacy Policy.
Zumba is a fitness program that is very different from regular weight loss workouts. Aerobics, elements of Latin American dances, and hip-hop are creatively combined to form this type of exercise. The salsa, rumba, merengue, tango, and mambo music used during the fitness is quite motivating. There are no formal rules. The main thing is to move energetically to the music and enjoy it. Zumba dance strengthens one, especially the muscles of the abs, thighs, and buttocks. Exercise has a positive effect on flexibility, coordination, and plasticity. For upper body training, there are variations with dumbbells. No special dance or sports skills are required. In addition, it's a great stress reliever that helps one be confident and happy.
Meaning and History
The founder of the new fitness style was the choreographer-dancer from Colombia named Alberto Perez. The name "Zumba" in translation means "to have fun". It is interesting that Zumba dance appeared quite by accident in the late nineties when the choreographer simply forgot to take his playlist on disk to training and had to practice to Latin American rhythms. The training turned out to be so stimulating and energetic that the dancer was inspired to develop this program. Alberto Perez and his business partners established the Zumba Fitness Company in 2001, which offers sports coaching to fitness instructors all over the world. Over time, different directions of Zumba have appeared. For example, Aqua Zumba for exercises in the pool and Zumba Toning, which includes classes with small dumbbells.
What is Zumba Fitness?
Zumba is a fitness program that consists of Latin-inspired dance moves. It includes a mix of elements from active dances. It is one of the most fun, positive and joyful sports that gives a beautiful physical body and a happy state of mind. Zumba became one of the most popular workouts in the world. At the moment, it has spread to about 200 countries.
1998 – Today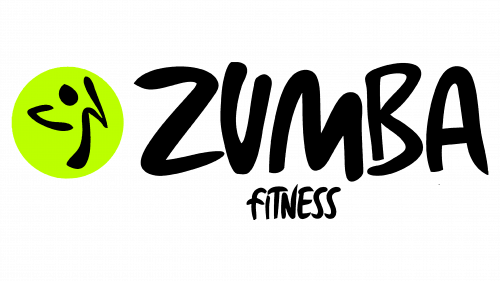 The word "Zumba" is the key feature of the logo. The font is quite funky and features smooth, curvy lines. All the letters are uppercase, but they are not placed on one line and have varying thicknesses. It is very appropriate for a fitness program that does not have any specific rules and combines various dancing moves. The name is accompanied by a yellow circle with a thick black border. Inside, there is an abstract silhouette of a dancing person.
Font and Color
The logo features a classic black color combined with a bright yellow one. The latter is full of energy and happiness, which is associated with positive emotions Zumba Fitness gives an individual. The font has also been designed to complement the idea of the company, which is all about fun, dynamic, and diverse dance moves. Accordingly, the letters had varying heights, sizes, and lines and reflected the motion created by the actively dancing people.