Arby's Logo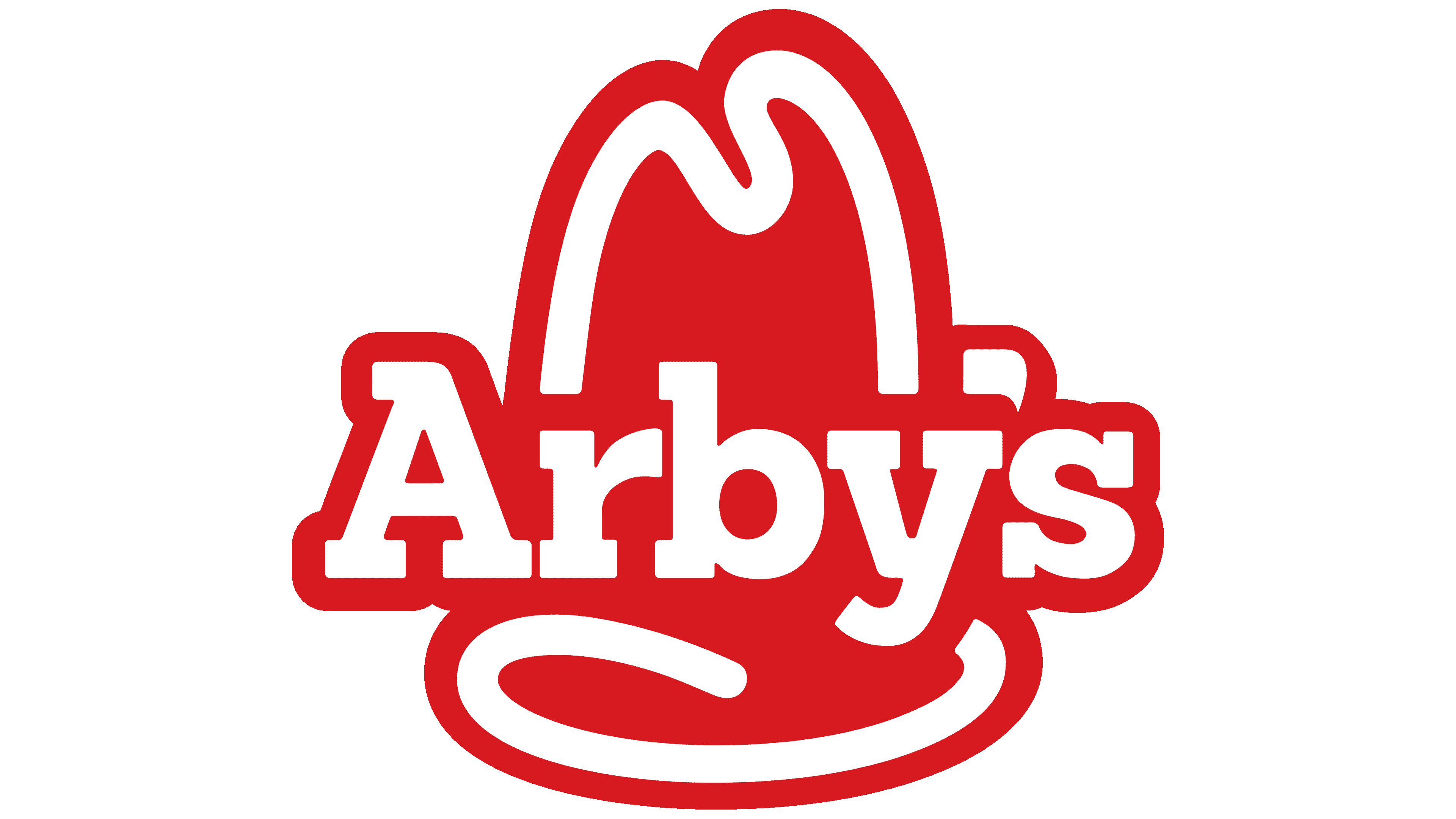 Arby's is a renowned fast-food chain, celebrated for its roast beef sandwiches and curly fries. Currently, the brand offers a diverse menu including meats like turkey, chicken, and brisket. While its primary market remains the U.S., Arby's has a growing global presence. As of now, Inspire Brands, a multi-brand restaurant company, owns Arby's. This chain continues to innovate, introducing new menu items and expanding its reach to cater to a broader audience.
Meaning and history
Arby's, established in 1964 by Leroy and Forrest Raffel, began as a sandwich shop in Boardman, Ohio. Contrary to popular belief, the name "Arby's" stems from the initials R.B., representing the Raffel Brothers, not "roast beef." Their vision: serve freshly sliced, quality roast beef sandwiches, diverging from the burger-saturated market.
By the 1970s, Arby's had expanded rapidly, introducing innovations like their self-service kiosks. The brand's iconic cowboy hat logo, symbolic of the Wild West's pioneering spirit, also became a recognized emblem. The 1980s saw menu diversification with additions like the Beef 'n Cheddar and curly fries.
Ownership of Arby's changed multiple times. In the early 1980s, the Raffel Brothers sold to Royal Crown Cola Co. Then, in 1991, the brand merged with DWG Corporation. The company later became Triarc Companies, which, in 2008, acquired Wendy's and formed Wendy's/Arby's Group. However, by 2011, Arby's was sold to Roark Capital Group, separating it from Wendy's.
In recent times, Arby's merged with Buffalo Wild Wings in 2018, creating a new entity, Inspire Brands. This umbrella company currently owns Arby's, furthering the brand's legacy of innovation and resilience.
1964 – 1976
In its initial days, Arby's logo was crafted with highway visibility in mind, having been conceived by the expertise of Peskin Sign Co. They fashioned an oversized cowboy hat, resonating with vintage Western vibes. This two-toned brown emblem bore the inscription "Arby's Roast Beef Sandwich" on its upper segment, adorned in stark white characters. The phrase "IS DELICIOUS" was prominently featured on the hat's lower section. To distinguish between the two parts, varied fonts were employed. The former had bold letters with pronounced rectangular flourishes, while the latter showcased a slender font, characterized by its concise and pointed serifs. This blend aimed to captivate drivers with a promise of delectable flavors.
1975 – 2012
By 1975, the comprehensive illustration underwent a transformation, adopting a red silhouette representing a ten-gallon hat's distinct shape. The verbose branding text was condensed to a more succinct and bold "Arby's." The design team then softened all sharp edges, placing the name strategically at the hat's midpoint. This placement segmented the continuous hat contour into two sinuous bands. The revamped design aimed to convey both simplicity and modernity, capturing the essence of the brand in a more concise yet impactful manner, ensuring it remained memorable to its audience. The changes emphasized the brand's evolution and its adaptability to changing times and tastes.
2012 – 2013
Approaching its half-century mark, the quick-service restaurant chose to revamp its brand identity. Many speculated this shift was an attempt to deflect negative publicity from several controversies, the most notorious being an incident where a customer discovered a detached finger in their meal. This makeover was aligned with the "Slicing Up Freshness" promotional drive. Reflecting this tagline, the apostrophe was reimagined as a round spinning knife, positioned above the letter "s," underscoring the brand's commitment to fresh, in-house meat slicing.
The lettering transitioned to a lowercase style, shedding its distinctive serifs. The font transformation abandoned its Western flair in favor of a more sterile, geometric accuracy. While the iconic cowboy hat remained, its 3D gleaming finish was met with disfavor. Many patrons felt this new look lacked culinary appeal. Recognizing the lukewarm reception, Arby's promptly revisited its design strategy, ushering in another logo modification shortly after.
2013 – Today
Acknowledging the missteps, Arby's decided to revisit its iconic visual roots. The design team drew inspiration from the emblem introduced in 1975. They fine-tuned the contours for a modern touch while maintaining its classic essence. For the textual element, they opted for a bold typeface featuring pronounced rectangular serifs, echoing the storied legacy of the brand. This redesign was a testament to Arby's commitment to preserving its rich heritage while seamlessly integrating contemporary design nuances. The shift was both a nod to the past and an embrace of the evolving branding landscape.