Chuck E. Cheese Logo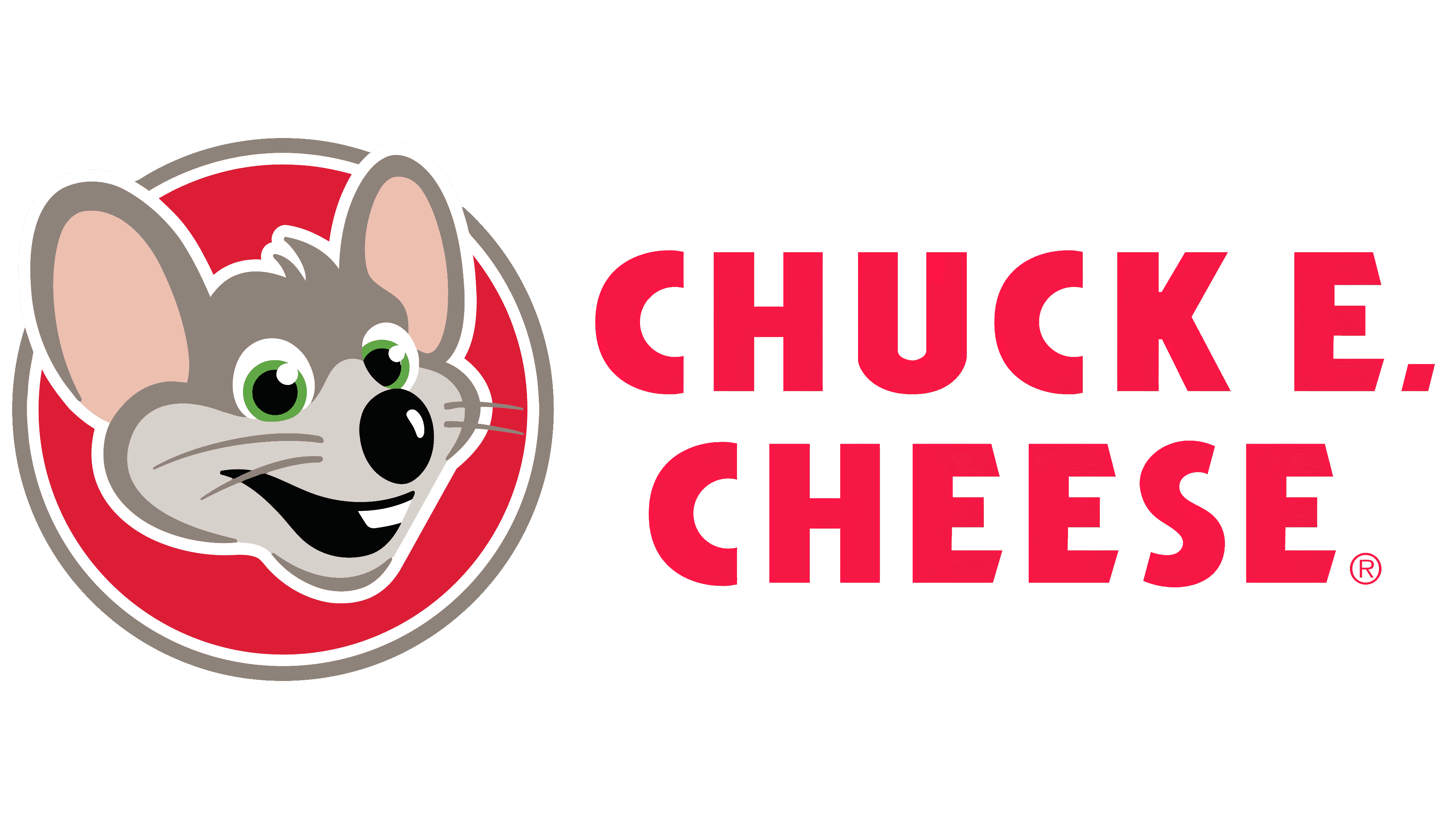 By downloading the Chuck E. Cheese Logo PNG you agree to the Privacy Policy.
Chuck E. Cheese operates as a family entertainment center, providing a combination of arcade games, amusement rides, and pizza dining. Primarily aimed at children, its venues often feature live performances by Chuck, the brand's animated mouse mascot. Established in the U.S., the brand has since expanded its reach to various international markets. The company has undergone several ownership changes over the years and has faced financial challenges, but it continues to be a popular choice for kid-centric celebrations and outings. Its unique blend of entertainment and dining keeps it relevant in today's competitive market.
Meaning and history
Chuck E. Cheese, originally known as Chuck E. Cheese's Pizza Time Theatre, was founded in 1977 by Nolan Bushnell, who's also known for co-founding Atari. He envisioned a venue where kids could eat pizza and play games, a novel concept at the time. In its early years, the brand differentiated itself with animatronic shows featuring Chuck, the mouse mascot, and his friends.
By the 1980s, the brand merged with its competitor, ShowBiz Pizza, forming ShowBiz Pizza Time, Inc. Post-merger, both chains operated independently until the late '80s when a rebranding initiative unified them under the Chuck E. Cheese name, retaining the beloved mouse mascot but overhauling other animatronics and branding elements.
In the following decades, the company underwent several ownership and structural changes. In 1998, it became CEC Entertainment, Inc. and went public. Financial challenges emerged in the 2010s due to evolving entertainment options for kids and increased competition. In response, the brand attempted to modernize its venues by reducing the prominence of animatronics, introducing newer games, and updating its menu.
The company faced further obstacles in 2020 due to the COVID-19 pandemic, which forced many locations to close temporarily. Consequently, CEC Entertainment filed for Chapter 11 bankruptcy in June 2020. However, this move was more of a restructuring effort, and the company continued its operations, emerging from bankruptcy later that year.
Through its history, Chuck E. Cheese has evolved, reflecting changing tastes and economic realities. Yet, at its core, it remains a place where families come together for food and fun.
1977 – 1981
In 1977, San Jose, California, witnessed the birth of an iconic emblem accompanying the inauguration of the inaugural outlet. This emblem featured a dish-like design, showcasing a rodent at its center. While its specific species – be it a mouse or rat – remained ambiguous, it would serve as the focal point for future brand iterations. The vibrant red backdrop, rimmed with gleaming yellow specks, highlighted the golden lettering of "Chuck E. Cheese." This primary inscription was underscored by a bold blue banner proclaiming "Pizza Time Theater." Intriguingly, while the venue's moniker was captivating, the specifics of what the "Theater" offered remained shrouded in mystery. The founders, leveraging a playful twist, portrayed their eatery as a unique locale where pizzas played a role in timekeeping.
1981 – 1991
A distinct promotional emblem, evoking memories of movie intros, was employed for marketing endeavors. Within a radiant red halo sits a mouse, beneath which the italicized, uppercase phrase "Chuck E. Cheese" is penned. This is succeeded by another capitalized tagline that previously graced the emblem. The merging of dual typography styles, complemented by a fiery blend of red and orange surrounding the dark emblematic plaque, exudes simplicity yet doesn't lack in visual appeal. This design radiates a sense of allure, suggesting a venue bustling with engaging shows and memorable tales for its guests.
1984 – 1991
In this phase, the distinctive tagline "Pizza Time Theater" was eliminated, retaining just the brand's moniker. At first glance, the typography and aesthetic of the emblem seem unchanged; however, upon closer examination, there's an evident vertical expansion and resizing. The mouse character, steadfast and unaltered, continues to be the cherished emblematic figure prominently featured in promotional materials.
1989 – 1994
During this phase, significant alterations to the logo marked a fresh chapter in the brand's journey. The revised logo showcased several modifications: a border in a shade of green, a pristine white backdrop, a mouse, filled in white, set within a vibrant red and yellow sphere, the brand name "ChuckECheese's Pizza" introducing an innovative direction Despite the bold changes, the prevalent white background rendered the logo feeling somewhat barren.
The mouse, bordered by a slender green line, appeared comically detached and somewhat out of place. The foundational concept remained, but its realization seemed lacking and not meticulously planned. The brand's designation also underwent tweaking, with "pizza" being the sole consistent element.
1993 – 1994
The simplistic, animated, and whimsical emblem once more delights patrons of this brand's venues. It exudes vibrancy, is memorable, and instantly captures attention. Gone are the intricate details and shading; however, a mouse, donning a cap (clearly identifiable as a mouse now), spreads its arms welcomingly and peers from a verdant sphere. Below, "ChuckE.Cheese's Pizza" is inscribed, with the brand's moniker adorned in a warm, reddish-yellow hue transition. An added punctuation follows the 'E', and the term "pizza" is now rendered in a rich cherry tint, lending a fresh appeal to the overall design.
1994 – 1998
The brand unveiled a revamped logo, coinciding with its venture into smaller retail outlets. The beloved mouse now sports a crimson athletic outfit coupled with a cap of blue and red hues. With one hand, he signals a "thumbs-up," while his other palm cradles his plump cheek. His dreamy gaze seemingly hints at the delectable taste of their signature dish. The familiar inscription persists, with the scarlet lettering now enhanced by subtle shading. Notably, the term "pizza" is absent in this rendition. Given the strong association the mouse has forged with its patrons, highlighting the primary menu item became redundant.
1995 – 1998
In a subsequent adaptation of the former emblem, the mascot Chuck E. Cheese underwent a delightful transformation, embracing a more youthful and appealing design. He was depicted in a sunny yellow sweatshirt accented with verdant stripes and topped with a hat, blending shades of crimson and emerald, crowned by a star emblem. Interestingly, this distinct style first made its presence known in an auxiliary logo back in 1993. The brand's lettering was infused with a sunset-like orange shade, adding depth. Primarily adopted for signboards, remnants of this particular design can still be found gracing certain outlets to this day.
1998 – 2004
The subsequent rendition of the prior emblem showcases a mouse garbed in a yellow outfit adorned with green stripes. The cap he dons contrasts in vibrant shades of green and red, emblazoned with a prominent 'C'. During this time, a subsidiary under the umbrella of CEC Entertainment emerged, which was previously known as ShowBiz Pizza Time. Interestingly, traces of this emblem's legacy remain, as it continues to grace certain locations even today. It seems that while evolving with time, the brand still cherishes its past, intertwining the old with the new in a dance of nostalgia and modernity.
2004 – 2013
The revamped mouse showcases a fresh demeanor, while the contemporary purple 'C' and the upward thumb gesture nod to the evolving zeitgeist, infusing a touch of the present into the preceding aesthetics. The color palette, intertwining shades harmoniously, presents a captivating visual allure. Drawing parallels to a graphic novel protagonist, the rodent exudes a charismatic presence. Meanwhile, the brand's typography adopts a deeper shade of crimson, enhanced by a subtle shadow effect, making the design even more pronounced. This transformation symbolizes the brand's adaptation and alignment with current trends, all while maintaining its iconic essence.
2012 – 2019
In this phase, the enterprise embarked on a significant brand makeover. The emblem started to echo its initial versions, showcasing a rodent's visage paired with crimson lettering in its title, supplemented by a distinct brand tagline beneath. The creature's grin broadened, radiating warmth and positivity. The latest portrayal focused solely on the head, leaning towards a more realistic representation rather than a human-like depiction, bringing it more in sync with its natural essence. This strategic transformation was a nod to its roots, reflecting both tradition and progression in the brand's journey.
2017 – 2019
In mid-2017, Chuck E. Cheese's unveiled a fresh concept, which was rolled out across seven revamped venues. They introduced a novel logo that, upon close examination, seemed to draw inspiration from the classic Pizza Time Theatre typography. However, it was distinctly separate and more refined, especially the depiction of the Rockstar Chuck head, now presented without the character's eyebrows. Additionally, they opted to exclude the 'S' and the apostrophe from the emblem, adding "Pizzeria & Games" for clarity. This design coexisted with its predecessor until the close of 2019.
2017 – 2019
In a fresh rendition, Chuck E. Cheese (now adopted as the official spelling) was paired with the tagline "pizzeria and games." This concise yet descriptive phrase precisely encapsulates the core offerings of the establishment. It not only emphasizes the delicious pizza that they serve but also highlights the fun-filled games that await patrons. This strategic addition paints a holistic picture of the experience one can expect, combining delightful culinary treats with engaging entertainment. The brand effectively communicates its dual focus, ensuring that visitors understand that they are in for both a gastronomic and recreational treat.
2019 – Today
Retaining elements from its iconic design, the emblem features a mouse encased in a vibrant red circle. The text has been simplified, and it now reads as two distinct lines: Chuck E. followed by Cheese, eliminating the possessive 's' and apostrophe for a cleaner look.
Regrettably, the COVID-19 pandemic's impact in June 2020 compelled the brand to file for bankruptcy. A number of its outlets had to shut down during this challenging period. Yet, displaying resilience, the company managed to bounce back by January 2021. With a refreshed management strategy and the inauguration of new venues, the brand showcased its determination to thrive amidst adversity.