DepEd Logo
Department of Education is the Philippine government institution, whose job is making sure the education in the country is provided on a good enough level. Now, there have been various departments with this purpose since at least 1901, but the contemporary office is active since 2001.
Meaning and History
DepEd had various name before: they mostly were variants of 'Department of Instruction' or 'Ministry of Education'. Interestingly, the first roots of an education-supervising branch of government were promoted by the Americans (who basically owned Philippines as a colony).
What is Deped?
DepEd, or the Department of Education, is the executive department of the Philippine government responsible for the administration and management of the country's basic education system. It was created on January 21, 1901, as the Department of Public Instruction, which was later renamed as the Department of Education in 1972 and again as the Department of Education and Culture in 1978.
2001 – today (logo)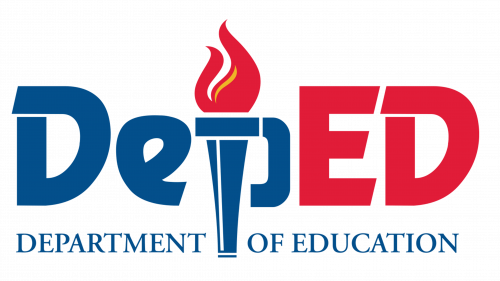 The Department had two symbols since the day it was reestablished. Let's start with the simpler emblem.
In cases when the government is not fully involved, the DepEd is addressed with this logo – a colorful word 'DepED' featuring a torch. The 'Dep' part is colored deep blue, where the torch acts as a bearing line for the third letter. For the fire, they used a slightly pale shade of blue with a streak of orange.
This same shade is used to paint the second part of the logo – the letters 'ED'. Curiously, the font is rather artistic, and not necessarily a strict mess of notches and thin letters you would thing an educational office would use.
Beneath it all, a blue writing with just such font is visible however. It says 'DEPARTMENT OF EDUCATION' in small yet uppercase text.
2001 – today (seal)
The seal, however, is more complex. It's a basic dark-blue seal with thick writing on the fringes that says 'Department of Education • Republic of Philippines' in Tagalog (or Filipino).
Inside, you can see a shield that features a yellow map of the country set against a deep blue background. In front, a large portion of the image is blocked by a burning torch (that also sends yellow rays in all directions). On top of the shield, an opened book is supported by two sea-lions (literally).
Emblem and Symbol
A burning torch seems to be heavily associated with DepEd. It's actually a quite common symbol used to symbolize enlightenment, progress and human achievements. It was undoubtedly brought to the country by the Europeans, because the emblem is known since Ancient Greece.