Salesforce Logo
By downloading the Salesforce Logo PNG you agree to the Privacy Policy.
Salesforce is an American software manufacturer founded by former Oracle co-founder Marc Benioff. The company specializes in cloud-based solutions that help businesses manage their customer relationships, and automate marketing, sales, analytics, etc. Since its foundation in 1999, Salesforce has revolutionized the way businesses interact with their customers, and become one of the most considerable firms in its field.
Meaning and history
The meaning of the brand name is quite literal. By the company's website, the name is inspired by the idea of sales force automation. The company's founder, Marc Benioff, believed that businesses needed a new way to manage their sales teams, one that leveraged the power of the web and cloud processing. Salesforce was born out of this vision, and it has been at the forefront of the cloud computing revolution ever since.
What is Salesforce?
Salesforce is a US-based software provider established by Marc Benioff, a former co-founder of Oracle. The company focuses on cloud-based products that aid enterprises in managing customer relations, streamlining marketing, sales, and analytics, among others. Since its inception in 1999, Salesforce has transformed the way enterprises engage with their customers and has emerged as a significant player in the industry.
1999 – 2014
Salesforce's original logo, created in 1999, was a glassy cloud shape with the company's name in lowercase letters. It had a white outline followed by the color blue deeper in the shape, which got white close to the center. The logo was designed to represent the company's cloud-based software solutions, which were new and innovative at the time.
2014 – today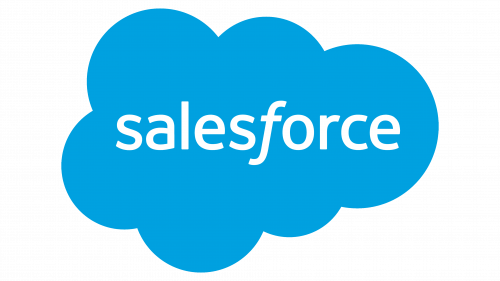 Then, the logo was made way simpler and more modern. It features a solid blue cloud with the brand name of a renewed style at the center.
Color
Since the start, the Salesforce logos' color code includes white and several shades of blue, such as deep navy blue and a bright, electric blue. The use of blue in the logos is meant to convey trust, reliability, and stability, which are essential qualities for a company that provides software solutions. Blue is also a color that is associated with technology, making it an ideal choice for a company like Salesforce.
Font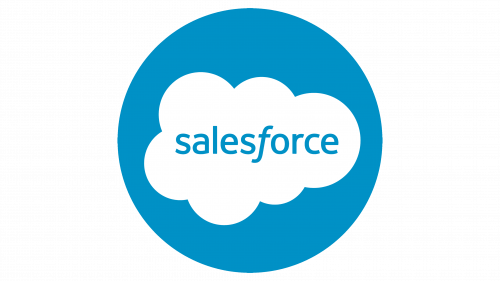 The font used in Salesforce's 2014 wordmark is called Acumin Pro. It is a modern sans-serif lowercase font that is both elegant and readable. The letter 'f' in cursive stands decorates the nameplate right at the center. The use of this font gives the logo a clean and contemporary look, which is consistent with the company's image as a leader in cloud computing.