Microsoft PowerPoint Logo
By downloading the Microsoft PowerPoint Logo PNG you agree to the Privacy Policy.
Microsoft PowerPoint is an instrument in the Windows library, which helps you create presentations of all sorts, as well as view and edit creations of other people. Initially, PowerPoint was developed for the needs of businesses, which benefit a lot from the instruments present in this software.
Meaning and History
1987 – 1988
When PowerPoint was designed, it didn't have a logo any logo. The 1.0 version had inscription 'PowerPoint, Create and Manage Presentations', something like a star made of dots, and the explanation with the authors, as well as developer company name and logo in the bottom.
1988 – 1990
The 2.0 version also had only the name as something to distinct PowerPoint from other soft. There was the Microsoft copyright, as well as the short explanation with the soft version and the firm which gave the color scheme.
1990 – 1995
The next PowerPoint logo (Now we can finally say that it got the logo) was an image of the presentation slide with something like diagrams and the slide name and two squares, looking like the illustrations to the slide. With it all, we can see the inscription 'Microsoft' and the background made as the sheet with the text.
1995 – 1999
The following PowerPoint logo was designed especially for the versions for Windows 95 and 97. It had the minimalistic presentation screen of dark and bright blue color in pixel gradient style. We can also mention the blue text in the center, and the picture with the diagram.
1999 – 2003
For the 21st century, designers from Microsoft made a new icon for the instrument. It looks modern and minimalistic even throughout the time. This icon had the presentation slide with the diagram and some other information. All this was colored white and had the orange background.
2003 – 2007
The 2003 instrument icon generally followed the style of previous version, but it was more detailed. In the place of full white and full orange, the gradient white and orange shades came; the inner part of an icon also gained the orange-white-orange frame, which added some strict mood to the whole picture.
2007 – 2010
The PowerPoint 2007 logo consists of the familiar slide, and a white & orange square with a rounded corner.
2010 – 2013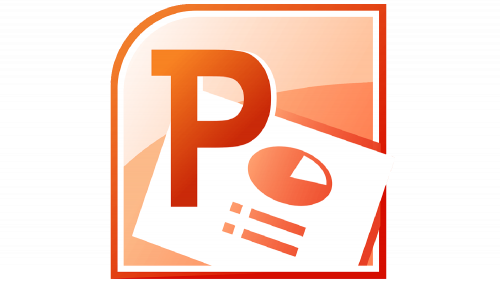 The 2010 logo consisted of the same square as well the character 'P' on the main position and the screen behind the letter.
2013 – 2019
One more PowerPoint logo was the screen with the diagram, which was half-closed by the square with the P character. This logo was drawn in the red and white style.
2019 – today
Another PowerPoint logo redesign consisted of the circle of different shades of red, and the 3D square with the letter 'P' on it.