Billie Eilish Logo
By downloading the Billie Eilish Logo PNG you agree to the Privacy Policy.
Billie Eilish is a phenomenon of sorts. She's a singer who became her career in 2015, when she was just 13 years old. She gained popularity right away, which made her into one of the most acclaimed artists in the modern world. As a result, she received 6 Grammies in 2020 and further 4 in 2021.
Meaning and History
Eilish became her career in November 2015, when her first single was released on SoundCloud and gathered some attention. Her later releases enjoyed even more success. Eilish is an American California-born artist with some Irish roots, much to the joy of her Irish fans.
What is Billie Eilish?
Billie Eilish is an American performer of Scottish and Irish descent. Starting her career in 2016, Eilish claimed 7 Grammy awards and released 6 different albums. The genres she performs in include primarily the various types of pop: pop, goth pop, indie pop, electropop, emopop, alt-pop and other.
2016 – 2018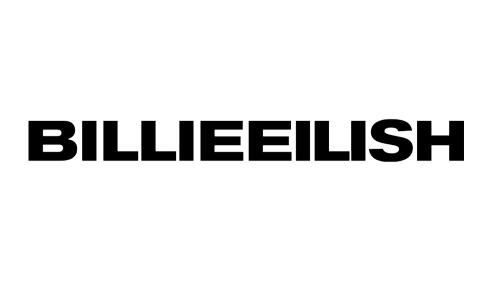 The first brand logo was a collection of wide blocky uppercase letters making up the words 'Billie Eilish', although there were no intervals even between the words, much less letters, in that variant. The logo was completely black, to reflect the mood of most her songs.
2018 – 2019
Several changes were made in 2018. Notably, the letters now resembled metal, with a lot of volume in them. Hence, they were shaded and illuminated heavily. They were also tilted, and there was now interval between the words. Otherwise, the design pretty much persisted.
2019 -2021
The 2019 variant saw even more change. The letters were now chalk-white and were as if hand-written, or even hand-drawn. That's why they are uneven, vary in size and don't even stand on the same level.
2016 – today
It's the only emblem used by the singer ever since its inception back in 2016. It depicts a simply shape of a person in black (although it's often green now, because it's her brand color) and with their left side raised a little, as if they are hanged by the shoulder. It was likely meant to be this depressive.
2021 – present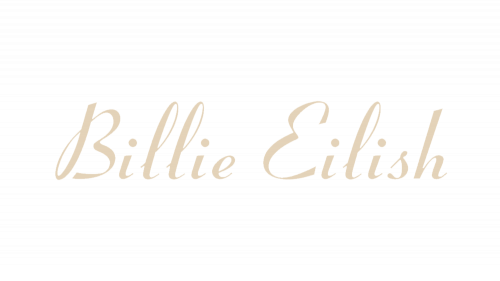 By 2021, Billie's brand turned to golden/yellow. It's reflected both on the brand symbolic in general, as well as her own appearance. In fact, it probably has everything to do with the fact that she simply dyed her hair blonde instead of the previous green – so, the change was due.
This time, it's a much more elegant, hand-written pair of words. They are a very pale golden color, which is also much softer than previous acidic palettes.
Emblem and Symbol
The 2016 hanged-man symbol is often used on the merchandise and other products associated with the singer's brand. It was initially black, but since 2019 the brand got the turn to green, which also reflected on this primary symbol. When it's not black, it's chiefly acidic green now.