Dallas Cowboys Logo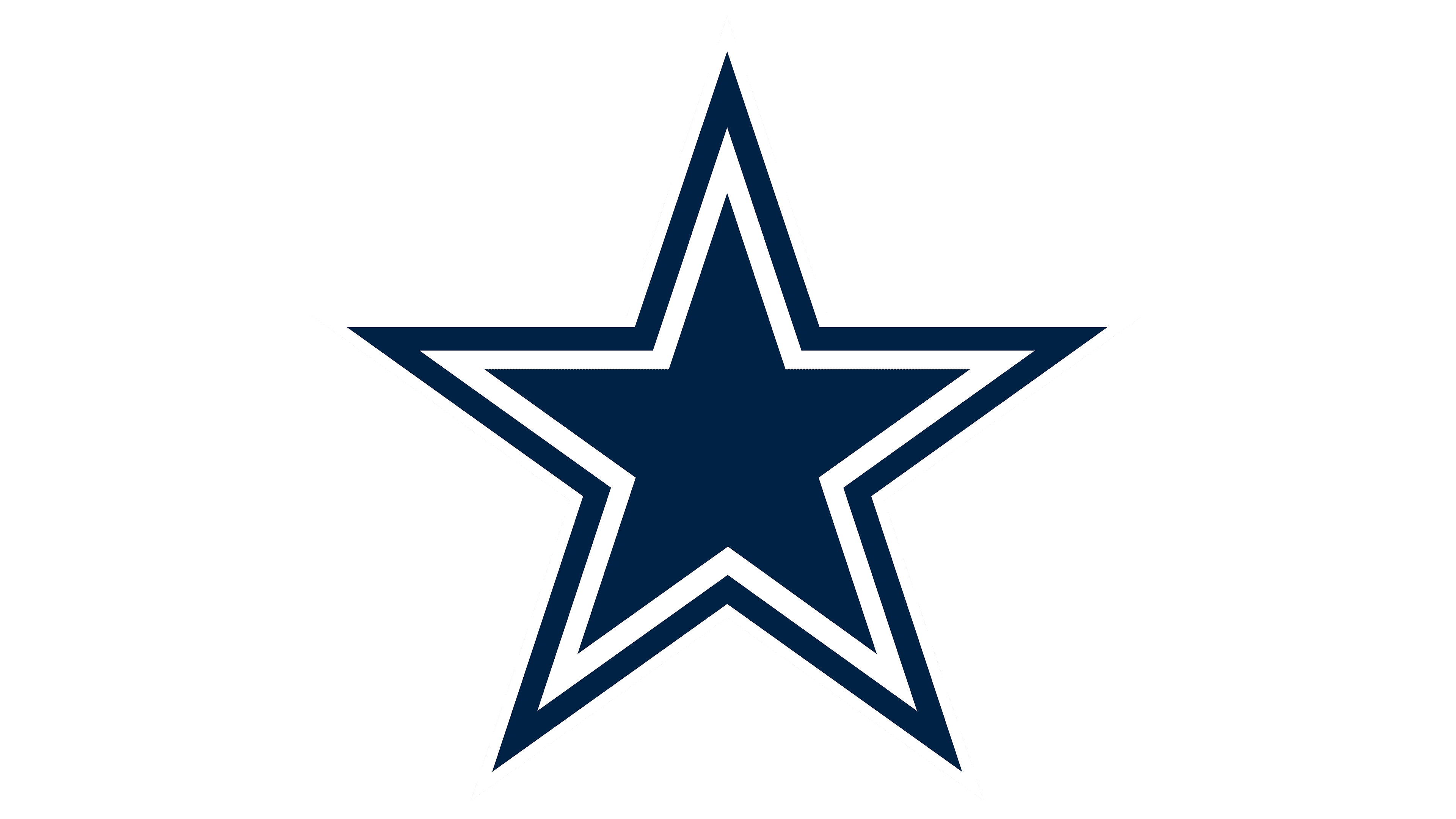 By downloading the Dallas Cowboys Logo PNG you agree to the Privacy Policy.
Cowboys are amongst the top football teams in America. Their hometown is obviously Dallas – one of the chief cities in Texas. As a result, DC often acts the state's overall representative when it comes to nation-wide competitions. That said, they haven't had a very rich brand evolution.
Meaning and History
The team has been established in 1960 as the team for a sprawling city of Dallas, seeing how they didn't have one for many years prior to that. Cowboys, feeling patriotic for their homeland, picked dark blue and white as their color palette. At the same time, the main emblem was always the star of Texas.
What is the Dallas Cowboys logo?
The official logo of the Dallas Cowboys football club is a solid blue five-pointed star with a double white and blue outline, where the white framing part is wider than the blue one. The badge is usually used on its own, without any additional lettering.
1960 – 1964
The first logo was just a Texan star in exactly the same composition as it is on the flag of this state. Alternatively, it could be inspired by the Dallas flag, and it's likely both. However, to paint the logo they took the dark blue from the Texan colors. And there were no other details until 1964.
1964 – today
In 1964, the bosses decided to put a white star outline inside the star itself. It was moderately slim and sat just inside the borders of the star proper. Because of it, it seems like the shape now has two outlines – white and blue, with identical sizes. This addition was made to better associate with the team colors, no doubt.
Emblem and Symbol
Like a lot of other teams, Cowboys also have a wordmark painted in the same dark blue color as the star. It just says 'Cowboys' in the same college-style font as countless other NFL teams. This time, however, there is no white anywhere.
Where did the Dallas Cowboys originally come from?
The Dallas Cowboys professional football club was founded in Arlington, Fort Worth, Dallas, and has never moved to any other city. The mother city of the club, Dallas, has received the NFL franchise in 1960, and since then the club represents its homeland in the league.
Who designed the Dallas Cowboys logo?
The Dallas Cowboys badge was changed just once in the club's history, and this change was more of a refinement, nothing dramatic. The original version featured a solid blue star, and the logo, introduced in 1964, was created by Jack Eskridge, who was not only the club's manager but also a famous American basketball player.
Why is the Cowboys logo a star?
Many brands, originating from Texas, use a star as a part of their visual identity, as Texas is widely known as "The Lone Star State". And the Dallas Cowboys football club is no exception.