American Eagle Logo
By downloading the American Eagle Logo PNG you agree to the Privacy Policy.
American Eagle Outfitters is a brand of clothing from United States. They particularly target younger audiences (college and university students) as their prime customers. As such, most of their products include jeans, t-shirts, as well as outerwear, swimwear and various other types of clothing.
"Who owns American Eagle Outfitters? The team has been founded by the Silverman brothers in 1977. Initially it was a subsidiary to Retail Ventures, but then was sold.
History Logo
The brand was created in 1977 under Retail Ventures, a versatile holding company, although they later sold it off. The name doesn't seem to be in any way connected to what services and products the company sells. It's simply a couple of words meant to be recognizable and inspiring.
What is American Eagle?
American Eagle is a popular American clothing and accessories retailer known for its casual and trendy fashion offerings. With a focus on youthful styles, the company caters to both men and women, providing a wide range of clothing options, including jeans, tops, outerwear, and accessories.
1977 – 1985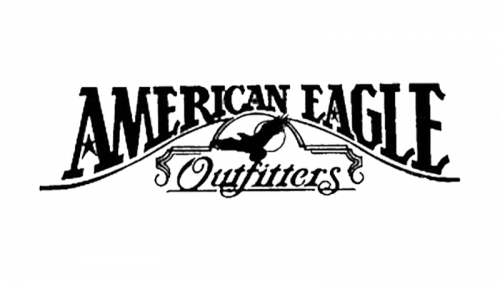 Their original logo was mostly a sloped 'American Eagle' inscription written in black serif letters. These were smaller and lifted near the middle, and the curve was highlighted by a single line below the words. In the middle of this slope, there a black silhouette of a bird with outstretched wings, as well as a cursive 'Outfitters' writing beneath that.
1985 – 2018
In 1985, they simplified the image by simply including a much more striking silhouette of a soaring eagle (also in black), as well as the company name in a homogenous serif writing, all letters uppercase.
2018 – today
By 2018, they simply used the same name inscription from the 1985 logo (without the eagle), but colored it dark blue.