By downloading the Captain Morgan Logo PNG you agree to the Privacy Policy.
Captain Morgan is a globally famous brand of Jamaican rum. There are many variations, some exclusive to separate countries, but it's usually a 'classic' formula with a 35% dose of alcohol. Under Diageo – a British alcohol corporation – they've managed to become a truly worldwide brand.
Meaning and History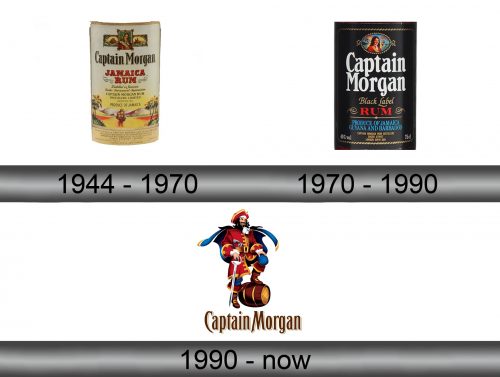 The brand takes root in the 1944 Jamaica, although the production was controlled by the company based in Canada. They decided to capitalize on the rum's reputation as a pirate drink. For that, they employed the image of a classic pirate and called him Captain Morgan, after a legendary pioneer who started the trend of raiding the Caribbean.
1944 – 1970
The initial emblem had the brand's name as a central piece. They usually wrote it in black over a white label, using a peculiar serif script with twisting lines that supposedly associated with exoticism and Caribbean back in the day.
As for the pirate's likeness – it was mostly based on the old engravings of the captain. Here, they gave him mostly red clothing and put him inside a small old-fashioned painting framed. On both sides, he'd usually have one additional painting – a sea landscapes with some ships on them.
1970 – 1990
The logo used in 1970s and into 1980s was the same, except the words were usually stacked one over the other, and the painting above turned into a picture framed in a sort of maritime knot that took an oval shape.
1990 – today
It wasn't until the 1990s that they started using the Captain's image as we know it now – a tall figure in red clothing (with some blue) supported by a barrel. The font changed too – it was now a little sharper and more like wrought iron than your typical written text.
Emblem and Symbol
They used many forms of the Morgan's likeness over the years. Those mentioned above are major ones that were utilized without fail across the years. Some boxes, however, were decorated with the old engravings that persisted since the 17th century, and some had smaller picture of the pirate with fewer nuances than modern depictions.