NetSuite Logo
NetSuite, now a part of Oracle Corporation, delivers a unified cloud-based business management suite. Catering to businesses of all sizes, it integrates ERP (Enterprise Resource Planning), CRM (Customer Relationship Management), and e-commerce capabilities. This holistic platform enables companies to manage their core business processes in a single system, streamlining operations and ensuring real-time data visibility. Renowned for scalability, NetSuite adapts to diverse business needs, driving growth and innovation. With a global footprint, it continues to dominate the SaaS market in integrated business solutions.
Meaning and history
NetSuite, originally named NetLedger, was founded in 1998 by Evan Goldberg with backing from Oracle's Larry Ellison. Envisioned as a web-based accounting software, its aim was to give businesses a cloud solution, steering away from traditional on-premises systems.
The company's trajectory soared as they rapidly evolved their offerings. By the early 2000s, NetLedger transitioned from just accounting software to a comprehensive suite, propelling its rebrand to "Oracle Small Business Suite" and later, "NetSuite."
Recognizing the broader potential of cloud computing, NetSuite expanded its product lineup to include ERP, CRM, and e-commerce functionalities. This made it a trailblazer in offering integrated, cloud-first business management solutions. Its adaptive platform attracted businesses globally, heralding an era where companies could access enterprise-grade software without massive upfront investments.
In 2007, marking its success and ambition, NetSuite went public with a well-received IPO on the New York Stock Exchange, further solidifying its position in the market.
The year 2016 was a landmark one for NetSuite. Oracle Corporation, seeing the value and potential of the cloud-based suite, acquired NetSuite for $9.3 billion. This merger synergized Oracle's enterprise expertise with NetSuite's agile cloud solutions, making it a formidable duo in the software industry.
Under Oracle's umbrella, NetSuite continued to flourish, expanding its global reach, refining its platform, and catering to a wider audience, from startups to Fortune 500 companies. Today, NetSuite stands as a testament to the transformative power of cloud computing in reshaping business landscapes.
2016 – Today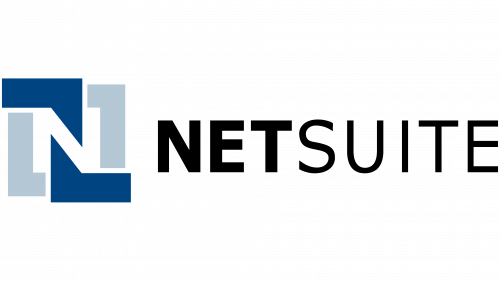 In its visual branding, the enterprise opted for a straightforward, almost traditional design, highlighting two primary components – an illustrative icon and accompanying text.
Positioned to the left, the emblem denotes the essence of cloud computing. Its hue is deliberately chosen to mirror the sky and clouds, with shades of blue and soft azure. The symbol, segmented into four distinct sections, underscores the harmonization of diverse software. Its quadrilateral segments, having extensions on the sides, bear a resemblance to distorted "L" figures. These two shapes sport identical oblique trims, crafting a slight pointiness. Their twin-like appearance accentuates the unified nature of the digital solution.
Adjacent to this, on the right, stands the firm's moniker. Intriguingly, while rendered in a single shade, a visual split is perceived in the font's weight: "Net" is highlighted with a bolder appearance, while "Suite" is rendered in a slender form. This results in the former having a stark black presentation and the latter, a deeper shade of gray. Through this subtle differentiation, the creators have ingeniously spotlighted the tech company's domain – a fusion of internet-driven foundations and an integrated application suite.