Alicorp Logo
The company provides consumer goods such as food and drinks. Initially, it was involved in the production of oil and soap, but the production grew, and the company decided to get to other goods. The company's staff consists of people with great management skills and special knowledge, which contributes to the effective solution of new tasks and successful growth. Alicorp products are not only sold locally in Peru as well as Brazil, where it has some daughter companies but also exported to other countries, which gives it an additional source of income.
Meaning and History
Alicorp is a South American company founded in Lima, Peru, in 1956. The company's initial name was Industrias Teodoro Aldude and Anderson, Clayton & Co, but after its acquisition in 1971, the company was renamed Compañia Industrial Peru Pacifico S.A. In 1995, the company changed its name to Consorcio de Alimentos Fabril Pacifico S.A. Finally, the name Alicorp appeared in 1997. Along with name changes, the company has expanded its activities from making oil and soap to the production of other personal care products as well as food, including animal food. It acquired other companies and signed agreements with other companies. In 2007, for instance, Ocean Nutrition Canada (ONC), a provider of MEG-3 branded functional food and dietary supplements, entered into a joint venture with Alicorp. As a result, ONC opened an omega-3 fish oil plant in Peru. The company has several daughter companies, some of which it has sold in the recent decade, and trademarks.
What is Alicorp?
Alicorp S.A.A. is the world's leading company and a leader in the Peruvian market. Peruvian Alicorp operates primarily in three segments. The first is food, personal care products, and household chemicals. The second is the food industry (flour, oil), and the third is animal food. Alicorp's consumer brands are well known in Latin America and have high quality.
1997 – Today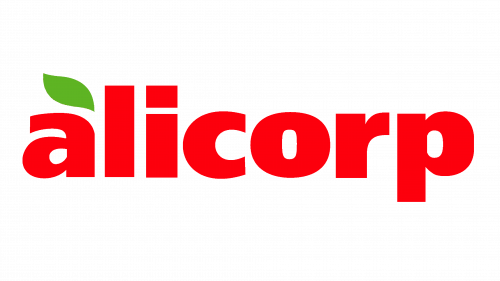 The current logotype of the brand depicts its red-colored name, written in a simple and bold sans-serif font. The whole word 'Alicorp' uses lowercase letters. An interesting feature of this logotype is the eye-catching leaf, placed above the letter 'a'. It is green and quite small without any details on the inside or the outer edge. When creating the brand identity, Alicorp hasn't stopped on its logotype. The official website of the company contains many images, such as a basket with food and drinks, a house with icons of fork and spoon, drawn over it, and many others. They are fond of the homogeneity of their aesthetics.
Font and Color
Alicorp logo features a simple typeface without serifs. It has rounded, smooth lines with straight, square cuts. The letters have varying thickness, which creates some interest. The logo is mostly red with small green detail. Both colors are very bright and suitable for the varying product lines of the company. The green color typically stands for nature, growth, and sustainability, while red is the color of energy, strength, and leadership.