Breaking Bad Logo
By downloading the Breaking Bad Logo PNG you agree to the Privacy Policy.
At the beginning of the Breaking Bad series, the viewer sees a desperate dying chemistry teacher who does not know what to do and who sincerely wants to help the family. He is looking for the best way to earn as much as possible and as quickly as possible. The series shows the transformation of a simple school teacher into an unscrupulous drug dealer and murderer. The problem of moral choice constantly comes to the fore.
Meaning and History
Vince Gilligan is the creator of the Breaking Bad series, the author of the idea, producer, and screenwriter. He came to the main concept of the series quite by accident. Having been unemployed for several years, Vince and his friend Tom Schnauz (also a screenwriter) discussed the possibilities of what they could do to earn money for a living. Along the lines, they discussed the latest article about a man growing meth in an RV. Thus, the main character was born. The release date of the series was January 20, 2008. There were a total of 5 seasons, which lasted until 2013.
What is Breaking Bad?
Breaking Bad is an American crime drama television series created by Vince Gilligan. It is rightfully included in the top 5 best world series. Breaking Bad starred comedian Bryan Cranston in the extremely dramatic role of Walter White, and Aaron Paul as young accomplice Jesse Pinkman.
2008 – 2013
The logo of the TV series is well-thought-out since it added chemistry elements to the logo in a very interesting way. The name of the series is printed in two lines and features a serif font with the first letters capitalized. The first two letters of each word have a square background and a small number in the upper right corner. It is not hard to guess that these squares and letters from the name are stylized as the elements Bromine and Barium. Considering that the main character is a chemistry professor and the chemistry theme is present throughout the series, it was a very smart trick. The logo does not have any other elements or inscriptions, but they seem to be unnecessary.
Font and Color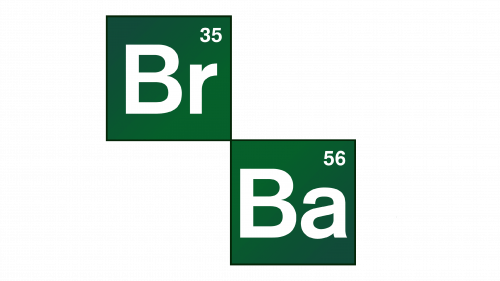 The font used for the emblem is very similar to Cooper BT Std Medium by Bitstream. It features smooth strokes and bracketed slab serifs. The green color was not chosen by accident. It represents life, which the main character has very little left of. The green is also associated with nature and in the case of the TV series, it likely symbolizes the green weed the chemistry teacher is trying to grow. There is also white, which is not only a good contrasting color but can also stand for the smoke and meth powder.