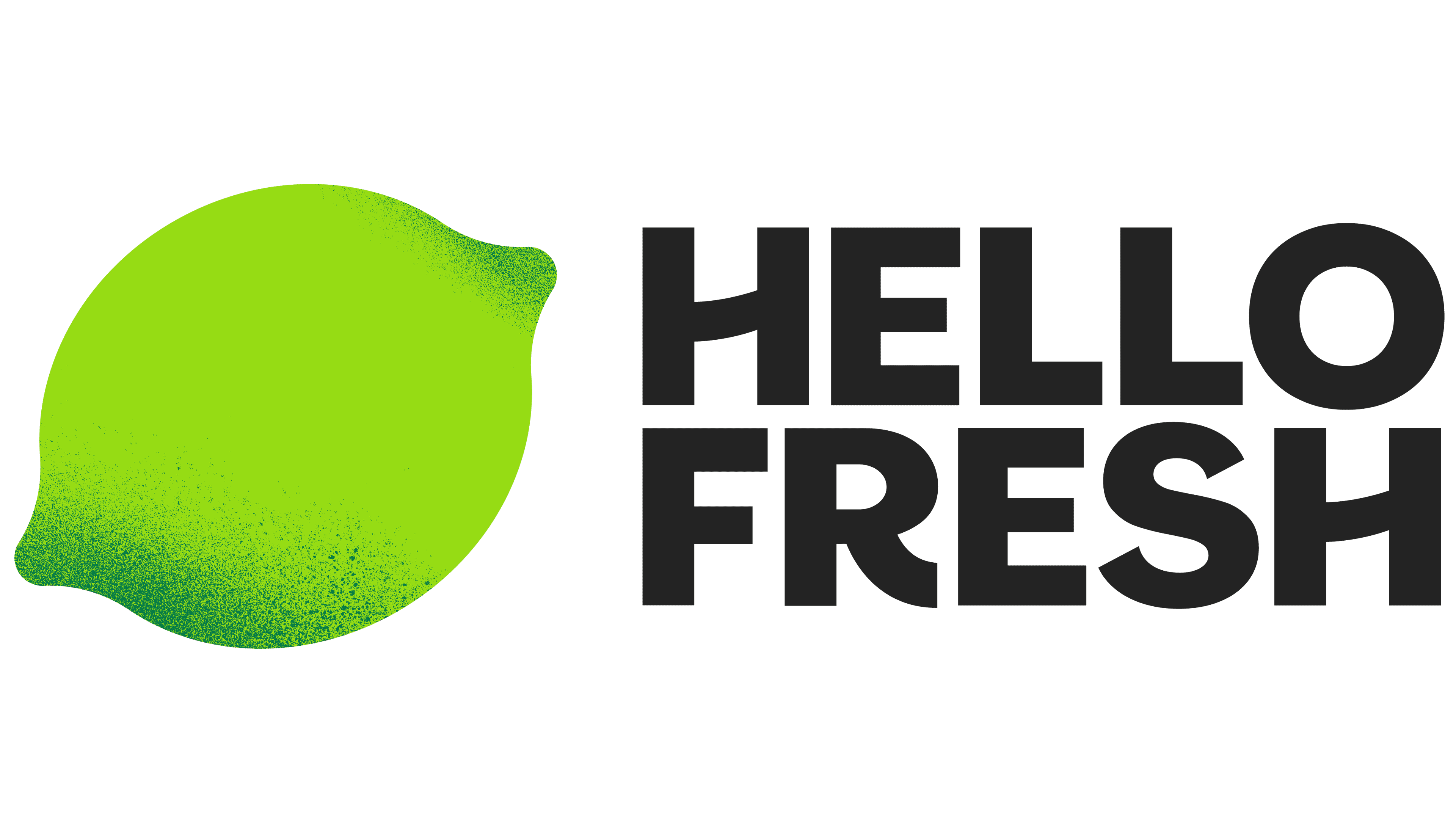 By downloading the HelloFresh Logo PNG you agree to the Privacy Policy.
HelloFresh is the German meal-kit service that selects packages of food ingredients, sorts them according to what you need in order to prepare specific meals and then sends you the perfectly-measured packages with the recipe cards inside, so you could cook for yourself.
Meaning and History
The service was introduced in Germany in 2011 and then spread across the world, primarily – into the United States, where they enjoy particular success. The name is derived from the fact that these guys work face-to-face with their customers by bringing fresh vegetables, meats, fruit, etc. directly to their door.
2011 – 2016
The initial logo was a sort of a cap – a lime circle with wavy edges and a lime ribbon that went right through its middle. On the ribbon, they wrote 'HelloFresh' in a linear, handwritten (but nor cursive) style. The other visual elements include a leaf right below the central ribbon and a dotted ring along the edge of the shape.
2016 – 2020
In 2016, they decided to substitute the circle-ribbon combo with a lime depiction. They didn't even have to change the color. The 'HelloFresh' part stayed, but it was now written in to lines, where the first word was given a cursive handwritten style, and the rest became blocky, soft sans-serif writing.
2020 – today
For the 2020 logo, they reused the lime shape; except they scaled down the waxed white glint it had before and now gave it some shading instead. The writing moved from the lime to its immediate right. The font was now universally a blocky, liner sans-serif. The usual color became black.
Emblem and Symbol
Although the main colors are now lime and black (according to the logo), the brand still uses white a lot. The logo is usually present on the boxes where they put all the ingredients. Because these boxes are naturally brown, they resort to using white letters, which made their rebranding useless.