Ryanair is the biggest airline in Ireland, and simultaneously one of the biggest in Europe. Their destinations link many major European cities, which includes most countries on this continent. And if you travel anywhere within EU, you'll likely be seeing these planes a lot, because they are also low-cost.
Meaning and History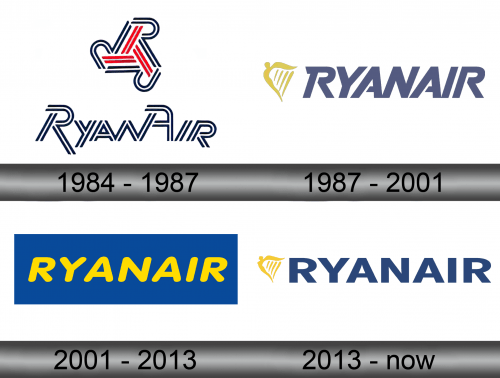 The airline was established in Ireland in 1984. Many countries introduce something associated with their homeland into the name, and Ryanair did so too, although in a strange way. It's literally the name 'Ryan' + the word 'air'.  The name in particular is so famously Irish that most people would instantly recognize that the airline must be Irish.
1984 – 1987
For the first three years of their existence, they used the triskelion emblem as the central piece of their logotype. A triskelion is a Celtic symbol that usually depicts three spirals connected in the middle. Instead of spirals, the airline used the rear parts of the planes – including the tail and a stabilizer colored red and black.
Below, they've written their name in the same linear style as the triskelion bit above. The letters consisted of two lines instead of one, which could refer to the take-off paths, probably.
1987 – 2001
In 1987, they decided to include another patriotic symbol without being eccentric about it. The emblem was now a national symbol of Ireland – the golden harp of Brian Boru. To the right of it was also the company's name – Ryanair – in all capital letters. The font was this time some artistic sans-serif that likes to cut letters in weird places.
2001 – 2013
In 2001, they decided to use a simpler image – just the airline's name in soft, pleasant typeface put inside a rectangular shape. The colors are actually deeper than just designers' preference. The blue is, unbeknownst to most, Ireland's national color, and the yellow is directly derived from the good-old harp.
2013 – today
In 2013, they decided to reuse the 1987 logo, but change the font this time. All the weird appendages were removed, and it was now just a mundane sans-serif colored in blue, although the general look stayed.
Emblem and Symbol
Ryanair likes their harps so much they put this emblem twice on each side of their planes. The one is blue and sits right next to the company name in the plane's middle segment, and the other is all the way back on the stabilizer – colored golden and placed over the blue background.