Jazeera Airways Logo
By downloading the Jazeera Airways Logo PNG you agree to the Privacy Policy.
Jazeer is a major Kuwait airline. It's not a main airline in this country (the Kuwait Airways occupies this position firmly), but it's still an influential brand with some stake in the international travels. The country is, after all, located on the crossroads of three continents.
Meaning and History
Jazeera entered market in 2004 as the second airline to operate out of the Kuwait International Airport. It was actually designed to undercut the power of the national airline that is Kuwait Airways. The name means 'island', which implies the position of the country in the Middle East – a small island surrounded by much bigger neighbors.
2004 – 2017
The initial logo featured a blue, skewed and rounded rectangle with the company name written in lowercase letters, styled as Arabic letters. It's not a word in Arabic – it's just the anglicized spelling of 'Jazeera' handwritten as if in Arabic.
On the right was a plain word 'Airways' in the simple Latin letters. And below that, they've written the whole name in Arabic – it was also colored in the same shade of light blue.
2017 – today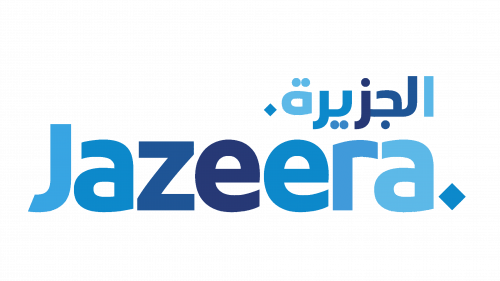 In 2017, they changed the logo to this. It said 'Jazeera' in the usual plain typeface – each letter painted a different shade of blue. In addition, they added the Arabic word that means the same thing above the main part, on the right side, with various symbols also colored different shades of blue.
Emblem and Symbol
They don't really have a mascot or any sort of symbol to put on their planes, unlike many other airlines. As an immediate identification symbol, they put the company name in Arabic on the tail of the planes. They usually color it white and surround it by a big blue blot, which is usually enough for identification.