Messenger Logo
By downloading the Messenger Logo PNG you agree to the Privacy Policy.
Facebook is the most popular social network in the world, and the Facebook Messenger messaging app is also very popular among users. Almost everyone who uses Facebook uses Messenger to communicate with friends.  Messenger is an online chat service created by Meta (Facebook, formerly). It allows people to quickly exchange text messages as well as send photos and audio files and other media to each other.  A business can communicate with new and existing customers, send advertising traffic to the app, and p    place ads in Messenger itself. The main drawback is that the service takes up a lot of RAM and actively reduces the phone's battery.
Meaning and History
Facebook announced the Messenger app for iOS and Android mobile platforms in 2011.  The next year, Messenger could be used in some countries, including Australia, India, Indonesia, South Africa, and Venezuela, without the need to register. A name and a phone number were enough to access it. In 2015, the Facebook Messenger app became available to non-Facebook users on all operating systems. It also launched a version for business as an alternative to email for communication between companies and clients. In 2017, Facebook released a plugin that allows one to embed a support chat on a website based on Facebook Messenger.
What is Messenger?
Facebook Messenger is a messenger created by Facebook in 2011. It has a separate mobile app. In addition, the service is integrated into the social networks Facebook and Instagram. Messenger allows individuals to exchange messages, photos, and videos, as well as make video calls. This messenger is one of the world leaders in terms of popularity.
2011 – 2013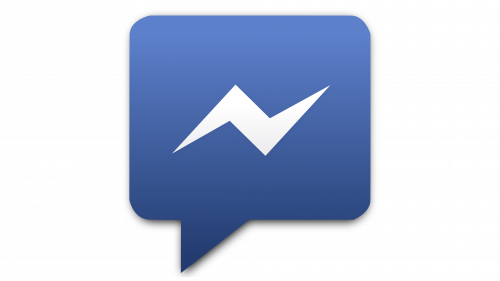 The initial logotype of the then-titled Facebook Chat was the simple watermark with the typical chat icon in the form of a rectangle. It featured a blue gradient with a darker shade at the bottom and a lighter one at the top. This logotype had a distinctive white zigzag line in the center of the rectangle.
2013 – 2018
In 2013, the Messenger icon was given an oval that looked almost like a circle in place of the old-school rectangle. It was a bright sky blue color with a gradient similar to the one used in the original logo. The white zigzag stayed unchanged.
2018 – 2020
In 2018, the Messenger team presented this one. It looked similar to the 2013 version, but it looked more like a perfect circle. Both the circle and the zigzag line looked bolder and rounder. The blue color looked more saturated.
2020 – today
The circle in this version gained a gradient, but nothing else really changed. The gradient was done at a diagonal and went from blue (bottom left) to violet and a bit of orange at the very top. It definitely looked fun and more inviting.
Font and Color
Different shades of blue are often used by companies for their logos and Messenger is not an exception. Initially, the company featured a darker shade of this color but then switched to a sky blue version. In 2020, the Messenger logo also had a gradient that also added violet, pink, and orange to the color scheme.  There are no written elements in the logo.