China Southern Airlines Logo
By downloading the China Southern Airlines Logo PNG you agree to the Privacy Policy.
China Southern is the largest airline in China, operating over 2000 cargo and passenger flights daily in many countries across the world, including Russia, US, European countries and others. This is the major airline in terms of aircraft fleet and the air transport in Asia. The main company hubs are the Beijing–Daxing and Guangzhou international airports.
Meaning and History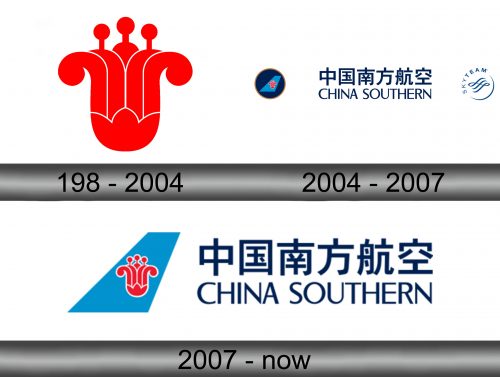 Chinese Southern Airlines were founded when the state's Administration Of Civil Aviation (CAAC) gained its seven divisions the semi-independence in the year 1988. One of these divisions was located in Guangzhou. A few years after, in 1991, the Guangzhou branch started operating by itself, having its own name and logo.
Who owns China Southern Airlines?
They aren't owned directly by the government. However, the PRC has a lot of influence on their management.
1988 – 2004
The initial logotype consists of the stylized image of the city flower of Guangzhou, the kapok. It was depicted in the red color palette with the white gaps. Though in 1988 this flower was in use as the only and principal part of the logo, in the following trademarks the brand designers decided to use it as the little part of the big picture.
2004 – 2007
The next logo, introduced by the company in 2004, consisted of some new details. This time, the company trademark had the dark-blue circular image with the plane tail inside. The tail had the familiar flower, depicted on it. On the right side from it, there was the straight sans-serif company name, written in the blue bold style with unconnected letters.
What is China Southern Airlines?
It's one of the top airlines in China. They are smaller than Air China, but bigger than China Eastern Airlines.
2007 – today
Finally, the current brand mark which is in use today depicted generally the same things, but a bit updated. For instance, the dark blue circle of the previous logo was removed, and only the blue plane tail remained. The inscription lost its bold style and became thin and elegant, but it was accompanied by the bold-written Chinese translation of it.
Emblem and Symbol
Where does China Southern Airlines fly?
They like to fly across the Pacific: a lot of their destinations are in Australia, United States or other countries in the region. But the most locations are certainly in China.
There is also the vertical version of the company logotype, which is in use for the company's social media accounts. It depicts the familiar image of the bright blue tail of the aircraft with the Guangzhou kapok flower drawn on it. The tail is usually placed above the capitalized name inscription written in the dark blue style in one line.